YeeCaption is a highly efficient audio and video translation software product. With AI technologies such as speech recognition, OCR, machine translation, as well as audio and video processing technologies, it provides intelligent caption translation services covering timing, speech recognition, immediate translation, correction, special effect production, and bilingual/multilingual caption export, offering effective and efficient support for the translation and production of audio and video files.
Core Competence
(1) Automatic timing and intelligent segmentation;
(2) Speech recognition, caption production;
(3) Intelligent machine translation and bilingual display;
(4) Automatic synthesis and online caption editing; and
(5) Support for pcm, wav, mp3, mp4 and many other audio and video formats.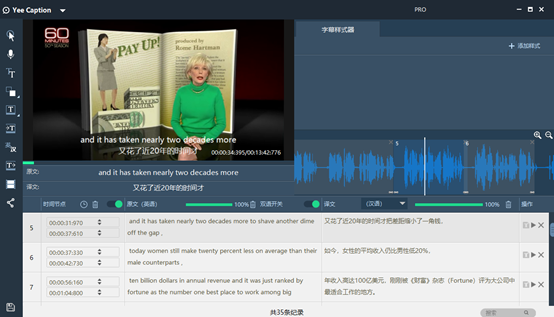 For more information: 2020nlp@gtcom.com.cn; www.yeekit.com/site/caption