On April 8, 2020, a delegation headed by Li Hongyan, Director of the Administrative Committee and Deputy Secretary of the Working Committee of Qingdao High-tech Zone, visited Global Tone Communication Technology (Qingdao) Co., Ltd. (GTCOM Qingdao) andhad a discussion with Wang Xiaodong, Vice President of Global Tone Communication Technology Co., Ltd. (GTCOM) and General Manager of GTCOM Qingdao, on enterprise business development and industrial park construction. Wang Xiaodong introduced in detail the company's products such as the AthenaPlatIndustrial Internet Platform, LanguageBox, and JoveTrans smart translation earphones.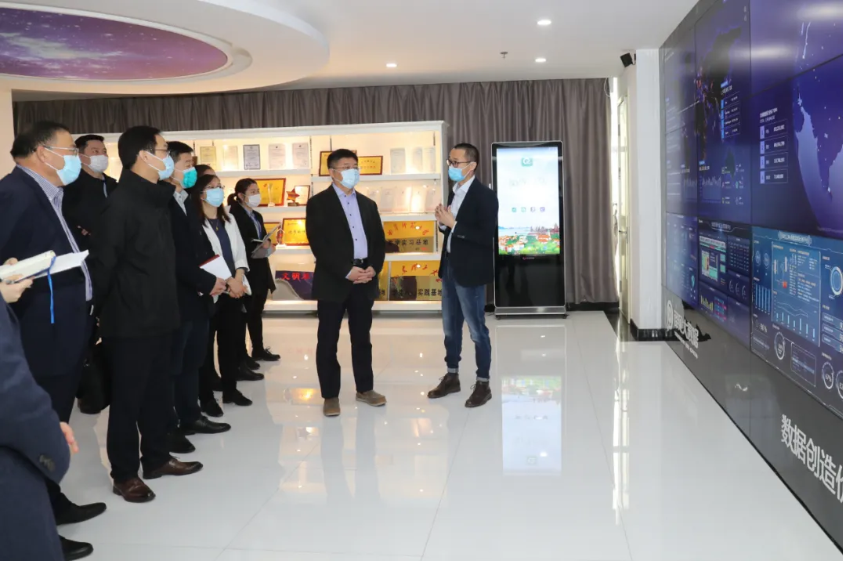 Li Hongyan and his party listens to the business and product introduction about GTCOM Qingdao
During this visit, Li Hongyan and his party learned about the intelligent manufacturing business solution system and hardware product cluster of GTCOM Qingdaoin detail, and experienced such language technology solutionsand intelligent hardwareas LanguageBoxand JoveTrans MIX smart simultaneous interpreting earphones which have successfully servedlarge enterprisesincluding PetroChina, China Hi-tech Group Corporation and Haier as well as large-scale international eventssuch as the SCO Qingdao Summit and China International Import Expo. Li expressed his recognition for thetechnologicalstrengths and rich achievements of GTCOMQingdao in the fieldsof machine translation, Industrial Internet and artificial intelligence, believingthatthe companyhasbeen focusingon cutting-edge scientific and technological fields, innovatingandintegrating advanced technologies to solve the pain pointsof vertical industry,showing great development prospect. In terms of the specific businesssectors, he approved the company'sexplorationof "micro-innovation transformation" modein the intelligent manufacturing business, thinking that this ideacan more effectively help industrial enterprises of different sizes to achieve low-costand fast digital upgrading;at the same time, he praised the company's strong support in language technology for the municipal government's epidemic prevention and control and for the "cloud signing"of international projectsof theHigh-tech Zone.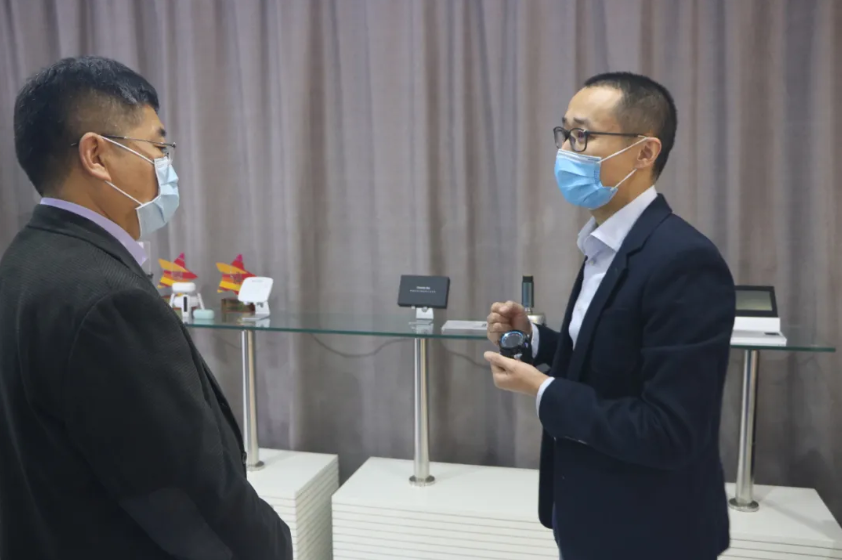 Li Hongyan learned about the industrial smart watch independently developed by GTCOM Qingdao
At the following meeting, Li Hongyan learned more about the construction of Qingdao Industrial Park of China Publishing Groupin the High-tech Zone, which is undertaken byGTCOMQingdao, a company underthePublishing Group,and made detailed plansto address the challenges and difficulties faced by the company. He said that he would fully support the company to complete the construction of Qingdao Industrial Park with high standards, and work harder to attract talents through the optimization of transportation, commercial facilities, talent incentives, etc., with an aim topromote the development of enterprises in the High-tech Zone with a higher-level industry-city integration. In addition, Li Hongyan and his party had a brief discussion with Wang Xiaodong on promoting the cooperation between the High-tech Zone and other enterprises underChina Publishing Group. Going forward, they will conduct further research and have more discussions to exploreopportunities for in-depth cooperationwith relevant enterprises.
The meeting
Wang Xiaodong expressed gratitude to the leaders of the High-tech Zone for their greatsupport. He said that the company is making steady progress in many fields such as intelligent manufacturing and machine translation, and will continue to innovate scenarioapplicationsin theindustry by seizing the substantial opportunityof the accelerated development of new national infrastructuresand leveraging the existing advantages inbig data, artificial intelligence and language science and technology, toachieve a significant increase in this year's performance.