GTCOM won first place for each of three language pairs and second place regarding another language pair in the Conference on Machine Translation (WMT 2020) held by the Association for Computation Linguistics (ACL). It was another success for GTCOM, which also took the crown with multiple language pairs in the WMT 2018 and WMT 2019 competitions.
WMT, otherwise called the Conference on Machine Translation, is acknowledged by the global academic community as the premier international competition of machine translation. In 2018, GTCOM participated in the English-to-Chinese pair machine-translation competition and outperformed the other eight teams from around the world, winning the first place. In 2019, fierce competition was launched among more than 60 teams from around the world. GTCOM took part in the assessment of six language pairs and won two first places in machine assessment and three first places, one second place and two third places in manual assessment. In terms of the number of champions, GTCOM, Microsoft Research Asia (MSRA) and Facebook tied for the top spot among a global gathering of teams.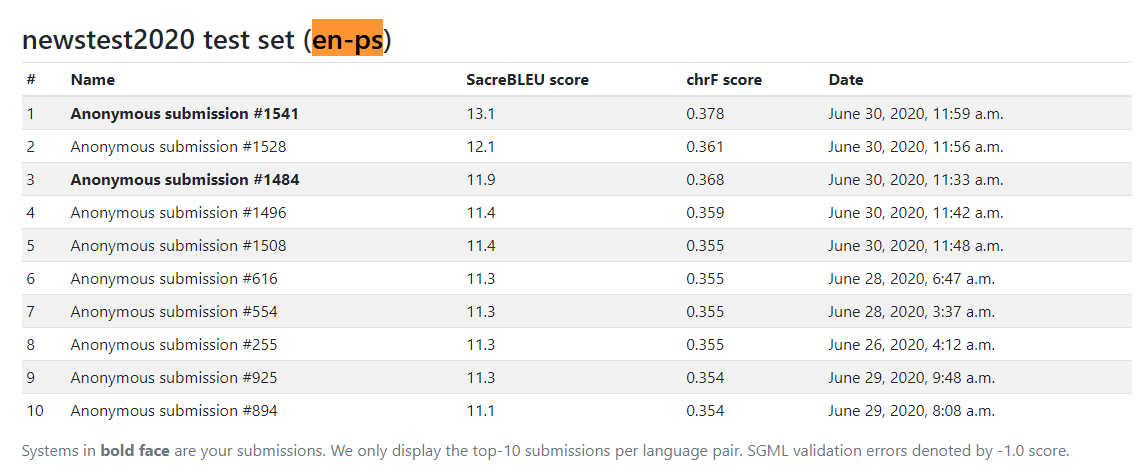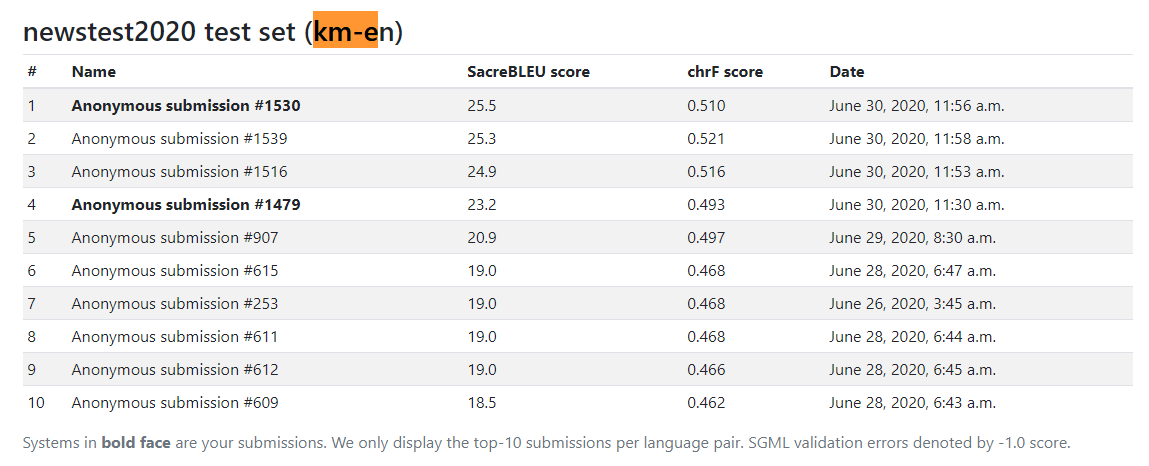 GTCOM makes the top 10 in four language pairs
(Numbers in boldface type are the numbers of GTCOM in the competition)
This year's WMT is distinguished by the use of anonymous assessment, which means that only the numbers and scores of the top 10 teams are displayed in each language pair. Thus, the fairness and objectiveness of the assessments are enhanced. GTCOM won the title for three language pairs: Khmer to English, English to Pashto and Pashto to English. Apart from winning the first place of these three language pairs, GTCOM also ranked second in the assessment of English to Khmer.
It's worth mentioning that the outstanding machine-translation performance achieved by GTCOM does not stop here. In the previous International Workshop on Spoken Language Translation (IWSLT) 2017, GTCOM had demonstrated its great potential in machine translation. At that time GTCOM had taken 16 championships from among 20 language pairs in the competition. In December 2019, by virtue of remarkable success GTCOM was awarded "Key Tasks in the Innovation of the New Generation of AI industry" by the MIIT, responsible for national technology research on "Multilingual Machine Translation System."
Profound expertise in language provides support for its strong machine-translation techniques. With the historical translation data that China Translation Corporation accumulated for more than 40 years, GTCOM creates a large parallel corpus of more than 5 billion quality sentence pairs.
GTCOM, through the intensive coordination of technology and data, has become a global leader of machine-translation research and application and make plans for machine-translation ecosystem. GTCOM applies machine translation to text translation, audio translation, video translation, web-page translation and other scenarios and develops software and hardware products of machine translation, including multilingual machine-translation engines, document translation, YeeKit CAT (a platform for computer-aided translation and project management), LanguageBox and MerCube MT (enterprise machine-translation hardware), providing strong support for cross-language communication and data-mining analysis with respect to global industrial sectors.