The T-EDGE Conference & Awards event, hosted by TMTPost, was held in Beijing from December 14 to 16, 2018. Cheng Guogen, CTO of Global Tone Communication Technology Co., Ltd. (GTCOM), attended the ceremony. GTCOM, as a representative of big data and artificial intelligence company, introduced a variety of big-data products. Its JoveMind knowledge-graph building and analysis platform was honored as the "Frontier Technology Product of the Year," showing that GTCOM's frontier innovation strength has been recognized by the industry.

GTCOM CTO Cheng Guogen attends the award ceremony
Trend-setting innovation
JoveMind leads cutting-edge technology
As a global innovation award with frontier innovation, industry authority and insight, T-EDGE Awards focuses on global hotspots while driving the international trend in science and technology. JoveMind was honored as the "Frontier Technology Product of the Year" for its revolutionary scientific and technological innovation. This achievement is attributed to the knowledge-graph building and analysis system independently developed by GTCOM based on years of data accumulation and strong data-analysis capability. The system can convert vast amounts of data into large-scale knowledge graphs so as to facilitate the valuable exploration of big data, which is highly significant to the development of cutting-edge technology industry.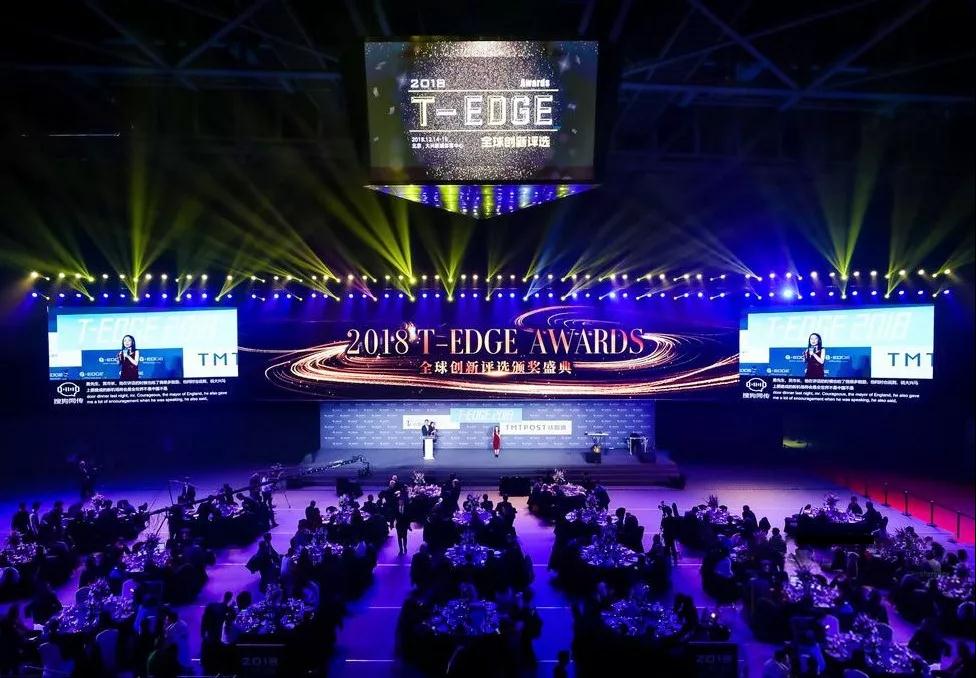 Site of T-EDGE Awards
JoveMind is a platform for knowledge-graph building and analysis designed for enterprise customers. It empowers visualized data search and analysis based on knowledge graphs, providing tailored algorithms and analysis dimensions for customers in different industries and application scenarios. JoveMind makes possible the multidimensional integration of fragmented data from different channels worldwide. In the process, it helps financial, insurance and securities markets more effectively analyze potential crises in complex relationships through automated semantic analysis algorithms by intelligently identifying and tagging enterprise risks in terms of reputation, credit and capital in large amounts of information. Moreover, each risk is traceable. This makes it convenient for enterprises to explore the cause of each risk factor and accurately control it, thereby eliminating such risks. Additionally, JoveMind uses hotspot clustering to identify the scope of influence and diffusion with respect to each risk, whereby an enterprise can monitor any given factor by determining the direction of PR and control and issuing prompt risk warnings.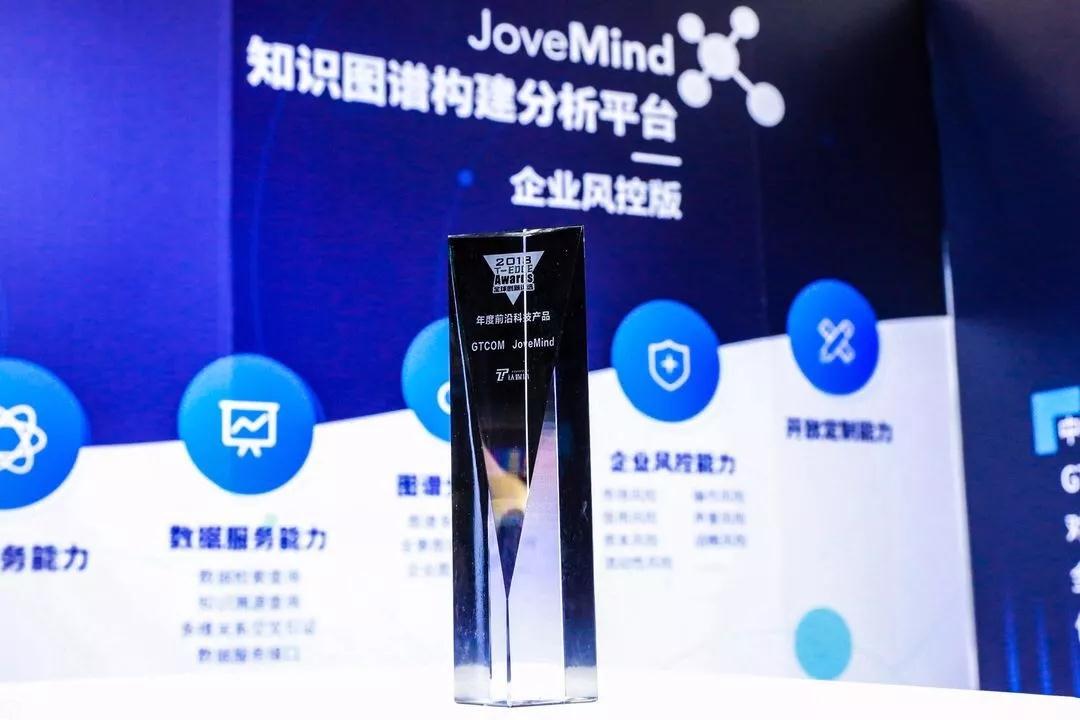 JoveMind honored as "Frontier Technology Product of the Year" at T-EDGE Awards
Comprehensive layout
GTCOM presents big-data results
The deep integration of the financial industry and new technologies continues. In addition to the "Frontier Technology Product of the Year" won at the T-EDGE Awards, GTCOM was honored as the "2018 China • Financial Technology Industry Innovation Enterprise of the Year" by Equal Ocean thanks to its innovative application of financial big data. Based on the big-data technology platform and the leading ability of big-data algorithms, GTCOM has the ability to apply artificial intelligence and big data to various fields. The company is definitely deserving of such awards.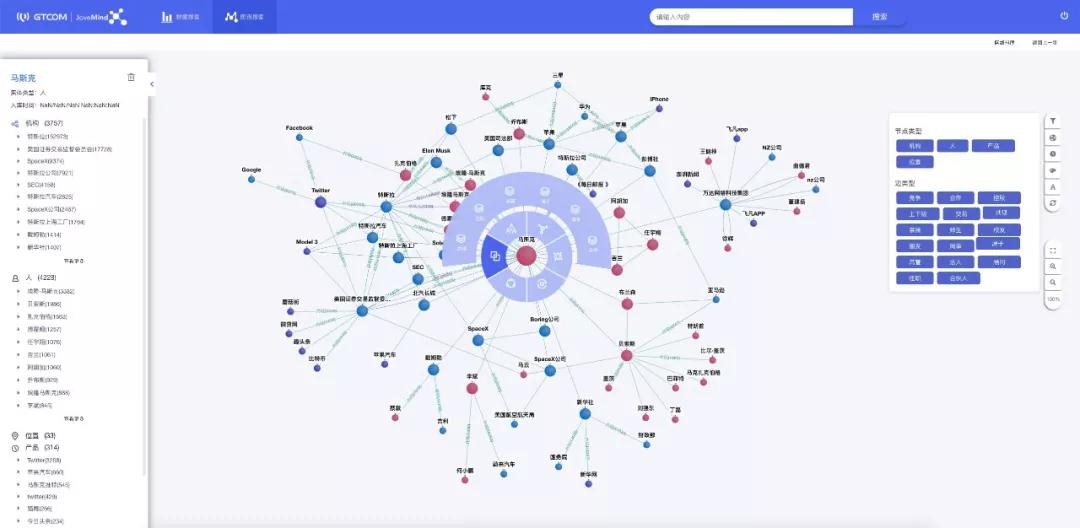 JoveMind Knowledge-Graph Building and Analysis Platform
At the conference, GTCOM not only demonstrated the JoveMind knowledge-graph building and analysis platform but also brought a variety of products such as the JoveArch data quantitative analysis platform, the JoveBird financial big-data platform and the JoveEye technology big-data platform as the company's latest applications in finance and technology.
Based on artificial intelligence and big-data algorithms, the JoveArch data quantitative analysis platform not only provides macro fundamental data, emotional data and third-party data but also offers quantitative analysis models that quantitatively calculate sentiment factors, market sentiments, panic indices and other important reference factors under each factor, thus giving investors vital market insight analysis from different perspectives and the ability to spot new market-investment opportunities. The platform is the world's only quantitative research vehicle with the ability to provide cross-language global alternative data and market-sentiment factor calculations.
Moreover, the JoveBird financial big-data platform designed for the financial sector intelligently analyzes data based on financial analysis models and powerful cross-language big-data processing capabilities, thus providing investors with the analysis of the latest investment opportunities and the ability to develop optimal investment strategies from a global perspective.
Additionally, JoveEye, as the world's first technology big-data platform that supports cross-language intelligent semantic search and analysis, generates large-scale and visualized knowledge graphs based on global huge amounts of technological data, thus revealing areas for technological innovation with its unique AI algorithms. With such tools, scientific research institutions and professionals can grasp the trends in technological research and development as they coordinate the development of science and technology.
Competitiveness, in today's Internet era, consists of the data accumulation and the level of technical strength one can offer. GTCOM, which continues to explore big data and artificial intelligence, has established its presence atop the technology wave. The award of "Frontier Technology Product of the Year" bestowed on JoveMind is the industry's recognition of GTCOM's achievements in the research and development of big data and artificial intelligence. In the future, GTCOM will pursue more technology-driven innovation, bring forth valuable solutions and applications and promote the development of the industry.