On June 29, 2020, Global Tone Communication Technology (Qingdao) Co., Ltd(GTCOM Qingdao)officially passed the CMMI 5 certification, the highest standard in the global software field, marking that the company's capabilities in software process, product R&D, implementation and delivery, project management and other aspects have reached the international advanced level. After passing CMMI 3 certificationin 2017, the company has taken a leap to the highest level of CMMI system.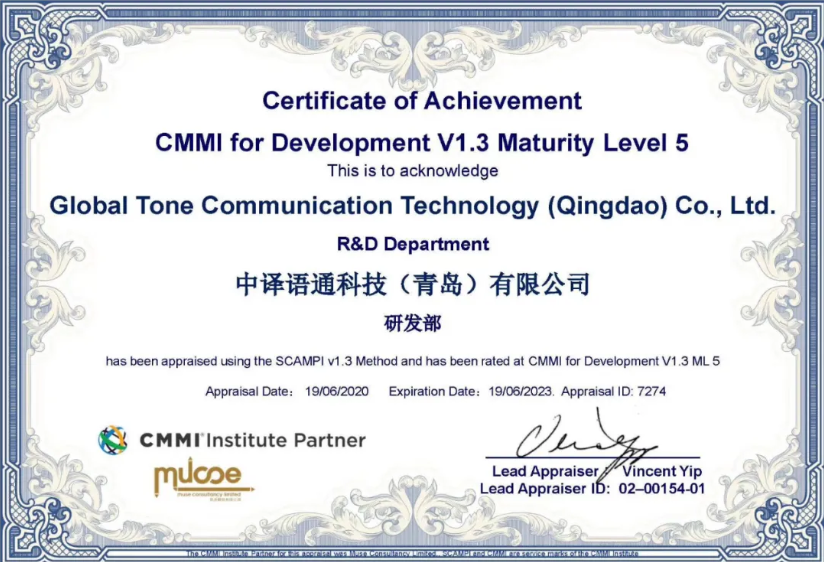 CMMI 5 Certificate of GTCOM Qingdao
It is learned that CMMI is jointly developed by the Software Engineering Institute of Carnegie-Mellon University and the National Defense Industrial Association of the US. It is anevaluationsystem specially designed toevaluate the capability maturity and process standardization of the software industry, andalso the most authoritative standard in the world to measure the capability maturity and project management level of software enterprises. In this system, there are five step-up maturity levels for improving process capability of enterprises, among which level5 is the highest level. According to the dataon the official websiteof CMMI, by the end of 2019, 2403 Chinese enterprises had passed CMMIcertification, among which only 341 enterprises had reached CMMI 5 level, accounting for less than 15%.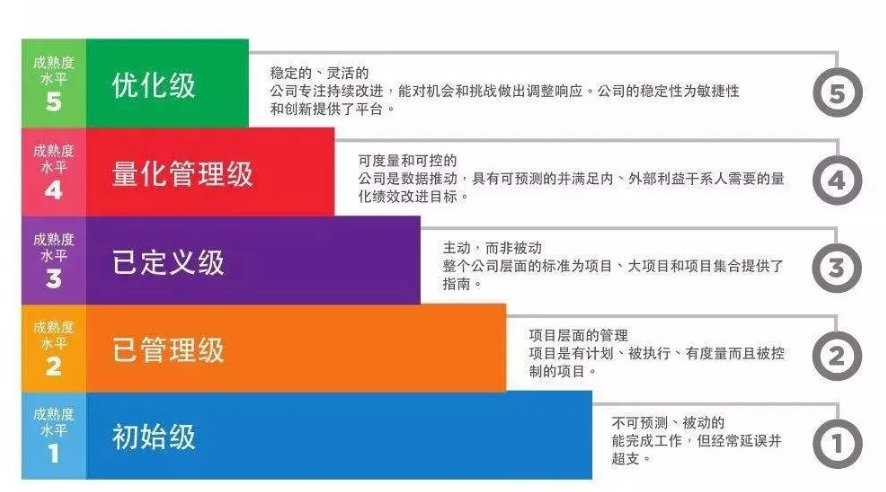 CMMI maturity levels
Since its establishment in 2014, GTCOM Qingdaohas focused on the three core businesses of big data, artificial intelligence and language technology. By continuously strengthening software and project management capabilities and increasing the accumulation of intellectual property, the company has constantly enhanced its core competitivenessand efficiently optimizedand upgradeditsproducts, created a big datasolution matrix covering intelligent manufacturing, intelligent cultural tourism, scientific research and teaching and other vertical fields, developed many language technology products such as smart translation hardware and smart multilingual service platform,andhas won many awardsin the industry, such as Excellent Software Enterprise in Shandong Province and Excellent Solution Provider forInformatization and Industrialization Integration in Shandong Province. During this CMMI 5 appraisal process, the company's R&D, product solution, project management and human resources and administration teams all united as one to cooperate with the review team inemployee statement and review of R&D process documents. Finally, the company met the CMMI high maturity specifications and requirements and passed the certification successfully.
The appraisal session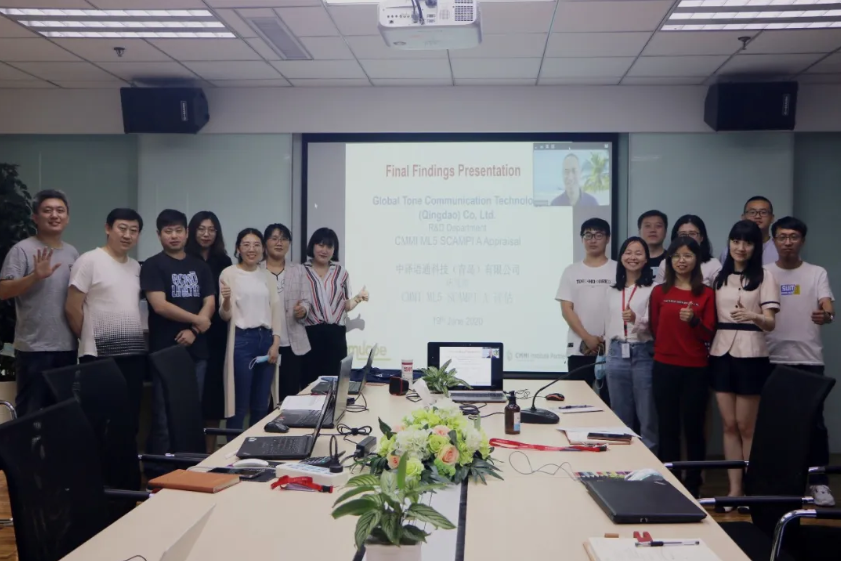 Group photo of the participating staff
Relying on data mining and analysis, natural language processing, knowledge mapping, Internet of Things and other cutting-edge technologies, GTCOM Qingdaohas grown into aleading big data and artificial intelligence enterprise in the industry, with a large number of intellectual property software and hardware products, vertical domain solutions, and international and collectiveservice cases. The CMMI 5 certification not only fully demonstrates the leading software development strength of GTCOM Qingdao, but also will help the company to explore more high-level market opportunities and improve the global competitiveness of its products. The company willadhere to the highest standard of CMMI 5 in product R&D, project implementation and delivery, constantly enrich product ecology, and provide high-quality big data and language technology services for industrial transformation and upgrading and global cross-language communication.