On July 26, 2019, the Press Conference on the Work Summary and Results of Qingdao's Building a Famous Software City in China was held in Qingdao International Convention Center. More than 200 participants from the government, industry institutions, scientific research institutes, software-relatedparksandenterprises, media and other fields attended the conference. As one of the important activities of 2019Qingdao International Software Convergence & Innovation Expo(Qingdao SoftwareExpo), the list of winners of"FiveFamous"(famous products, famous enterprises, famous parks, famous exhibitions and famous figures)in Qingdao'ssoftware industry in 2019 was releasedwhich were organized and evaluated by Qingdao Municipal Bureau of Industry and Information Technology. Global Tone Communication Technology (Qingdao) Co., Ltd.(GTCOM Qingdao), together with Hisense, Haier, CRRC Sifang, Neusoft and other large enterprises, was elected as a famous software enterprisein the city, itsinnovation capacity and achievementswinning recognition fromthe government and the industry.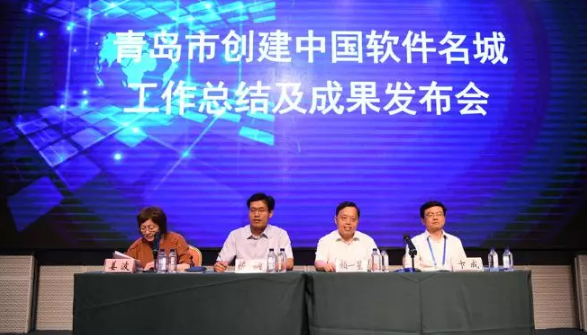 Since Qingdao became the first pilot city to build afamous software city in Chinain November 2017, the government has continuously optimized the industrial ecology by means of policy support, introduction of famous enterprises and cultivation of parks. A series of technological and product innovations, represented by Industrial Internet, artificial intelligence and virtual reality, have continued to emerge. Among them, the "FiveFamous"in software industry has played asignificant exemplary role.
As one of the famous software enterprises in the city, GTCOM Qingdaohas advanced cross-language big data, artificial intelligence and language technologies. Its products include not only the big data solution matrix covering multiple fields, but also the intelligent hardware products inlanguage science and technology combining "software and hardware".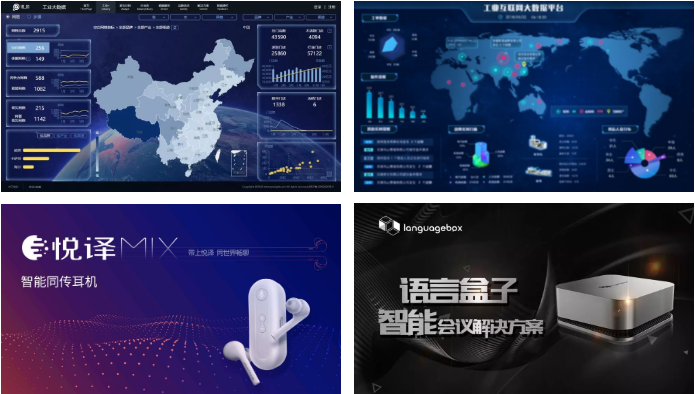 Products of GTCOM Qingdao
Since its establishment in early 2014, the company hasmake strenuous efforts to makebreakthroughs in the fieldsof software and information technology services. On the one hand, based onthe business process pain points and digital needs of different industries, the company has independently developed and launched a series of industry solutions such as industrial big data, intelligent operation and maintenance big data, sci-tech big data, global cross-language big data experimental innovation platform, and smart tourism ecosystem by comprehensively using data mining and analysis, natural language processing, NMT machine translation and artificial intelligence technology; on the other hand, with insights into the robust development trend of the intelligent hardware market, the company has developed JoveTrans Mixsmart simultaneous interpreting earphones, LanguageBox and other scenario-centeredintelligent hardware products with multilingual AI simultaneous interpretingfunction by relying on the hundred-million-level corpus and dataand integrating the advanced technologies of speech recognition, NMTmachine translation, speech synthesis, etc.
At present, all kinds of products of GTCOM Qingdaohave successfully served differenttypesof customers in different fields, such as Shaanxi Provincial Department of Culture and Tourism, PetroChina, China Hi-tech GroupCorporation, China UnionPay, Xi'an International Studies University, as well as large-scale international events such as the SCO Qingdao Summit and the First China International Import Expo. In addition, through active participation in national level projects, the company has cooperated with leading enterprises and authoritative institutions such asInfoSoft, Institute of Scientific and Technical Informationof China, and China Academy of Information andCommunications Technology, and has won relevant awards in selection activities organized by the government, large-scale professional exhibitions and high-level industry associations for many times.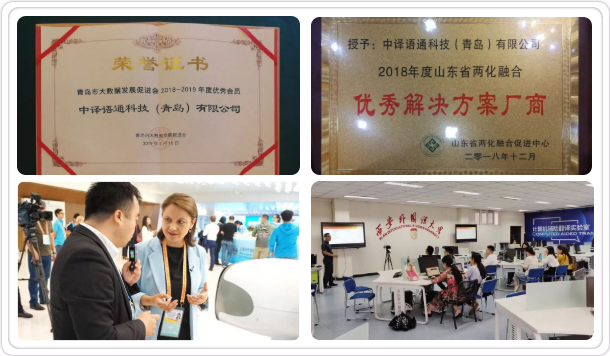 Success cases and related awards
"Famous Software Cities in China" act asthe "vanguard" of international industrialcompetition. On the road of vigorous development of Qingdao's software industry, GTCOM Qingdaowill strive to play an exemplary role, actively build industrial ecology byworking hardon technological innovation and scenario products in the fields of big data, artificial intelligence and language technology, and help Qingdao build a famous software city in China and achieve high-quality development inthe software industry, tocontribute its share to the internationalization of China's software industry.