As a traditional pillar industry of China's economy, the textile industry's intelligent transformation and upgrading has in recent yearsbecome a hot topic under the"Made in China 2025" strategy. How to establish an intelligent industrial chain system, how to create new business models, and how to increase the added value of consumption? In the face of the brand new development needs of textile industry, enterprise informatization has fundamentallyprovideda new growth driver for the development of the industry.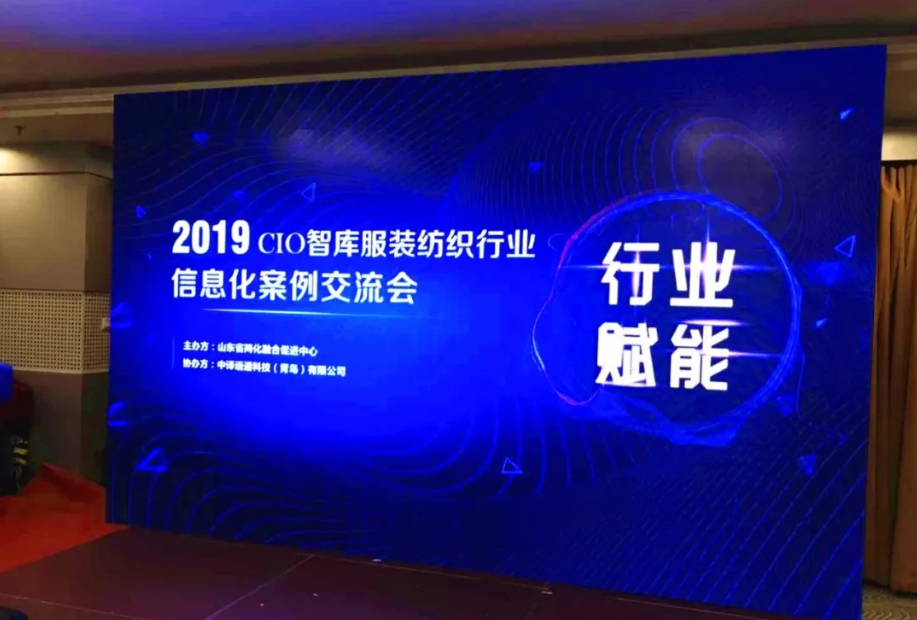 On May 31, 2019,2019CIO Think Tank Garment and Textile Industry Informatization Case Exchange Meetinghosted by Shandong Provincial Informatization and Industrialization Integration Promotion Center was held in Jinan. As the co-organizer, Global Tone Communication Technology (Qingdao) Co., Ltd.(GTCOM Qingdao),an "Outstanding Solution Provider forIndustrialization and Industrialization Integration in Shandong Province in 2018", attended the meeting, and discussedthe development of newbusiness forms of intelligent textile with the CIOof more than 30 garment and textilecompanies including LuthaiGroup, Kutesmart (Red Collar), and Nanshan Textile, as well asrepresentatives fromwell-known information service providers in the industry. Zhou Xi, Senior Director of Data Empowerment Center of GTCOM Qingdao, gave a keynote speech.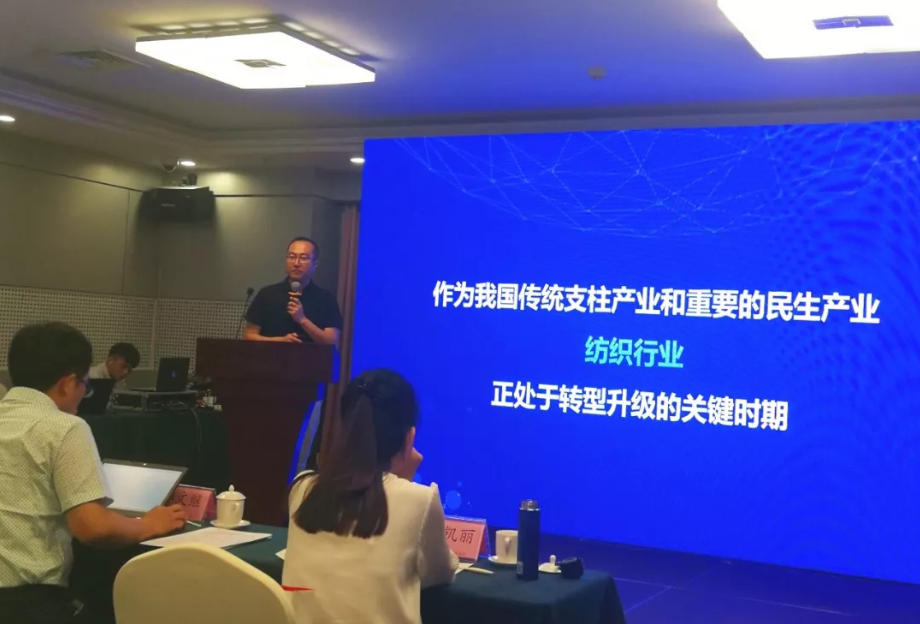 Zhou Xi, Senior Director of Data Empowerment Center of GTCOM Qingdao, gives a speech
The overall informatizationlevel of the domestic textile industry lags far behind the engineering machinery, automobile, home appliances and other manufacturing industries. A large number of enterprises need to quickly tap the data value, realize the intelligent operation and management of production lines, so as to achieve the goal of reducing cost, increasing efficiency,improving quality,and controlling risks. Based on its insights intothe textile industry, GTCOM Qingdao has created an overall solution for intelligent manufacturingof textile industry. The solution uses advanced technologies such as big data and Internet of Things, integrates functions such as data mining, data index analysis, intelligent equipment operation and maintenance, intelligent optimization of production lines, and accurate customer portrait, so as to achieve intelligent upgrading ofthe whole process of production, management, operation and maintenance and marketing of textile enterprises, effectively reduce enterprise costs, increase the value-added service incomeof products, enableproduct R&D and innovation, and assist the enterprise to transform and upgrade towards "manufacturing + service". In addition, in the process of expanding the presenceof domestic textile machinery in the international market, the cross-language big data and intelligent whole process features of the overall solution of intelligenttextile manufacturing will help improve the global competitiveness of domestic products and form a new intelligent manufacturing mode that can be replicated and promoted. It is learned that the solution has not only successfully servedlarge domestic textile machinery enterprises, but also effectively lowered the threshold of use through independent innovation in the algorithm model, which providessmall and medium-sized textile enterprises with the opportunity to pursuelow-cost and rapid informatization.
At thiscase exchange meeting, GTCOM Qingdaofully demonstrated its achievements in the field of intelligent manufacturing, and impressed the participants with its innovative mode of empowering the textile industry with big data. Going forward, the company will continue to innovate advanced technologies such as big data, artificial intelligence, and Internet of Things, focus on the scenario-basedapplicationsof Industrial Internet, and inject new vitality and new value into the transformation and upgrading of different industries.