The sixth edition of the famed Wearable Expo was held in Tokyo from February 12th through 14th. Global Tone Communication Technology Co., Ltd. (GTCOM), upon special invitation, demonstrated its advanced AI technology and intelligent hardware such as the JoveTrans smart simultaneous interpretation earphones and LanguageBox to many enterprises and guests, and as part of the gathering the company's representatives had lively exchanges and cooperation with world famous manufacturers of intelligent wearable devices.
As the world's largest professional exposition for wearable devices, the Wearable Expo can provide the latest technology information and a trading platform for global participants. The event brought together more than 200 exhibitors, including global names such as Samsung Electronics, Dupont Electronic Materials, Mitsui Chemicals, MITSUFUJI, Taisei Seiko and Fitbit to exhibit the latest products and applications.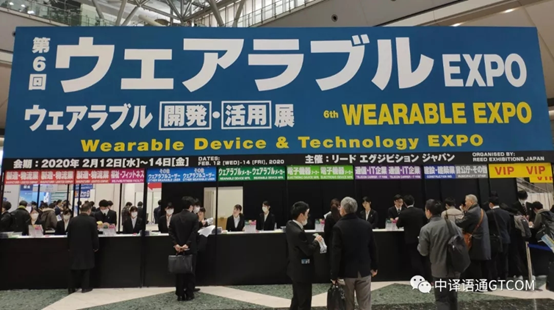 ▲ The sixth Wearable Expo, held in Tokyo

Based on its leading AI technologies, GTCOM has implemented the application scenarios in the language service industry, and built a complete intelligent hardware ecosystem. GTCOM demonstrated such intelligent products as JoveTrans Mix Smart Simultaneous Interpretation Earphones, JoveTrans Lite ANC Interpretation Earphones and LanguageBox, all of which received enthusiastic praise from visitors.
▲ JoveTrans smart interpretation earphones and LanguageBox attracted great attention from guests.
Given their TWS Bluetooth and translation functions, JoveTrans Mix and JoveTrans Lite smart interpretation earphones boast Bluetooth 5.0, super-long standby, HiFi sound quality, fashion colors and other considerate design elements, and can satisfy customers' demands on intensive work, entertainment and personal preferences as well as interactive use in multilingual scenarios. With simultaneous interpretation as its core function, JoveTrans Mix supports accurate interpretation between more than 30 languages, including Chinese, English, Japanese, Korean, French and Russian. Additionally, it has two innovative interaction forms: "two earphones" and "one earphone + translation stick." Featuring the latest earphone function of "active noise cancellation (ANC)," JoveTrans Lite can rapidly reduce environmental noise for more naturalistic real-time acoustical enjoyment. By supporting more than 15 commonly used languages, the real-time translation function of JoveTrans Lite can ensure barrier-free communication.
Based on such cutting-edge technologies as neural-network machine translation and multilingual speech recognition, LanguageBox is an intelligent meeting solution targeting enterprise users. It can provide such services as high-quality AI simultaneous interpretation (encompassing more than 50 languages), intelligent shorthand and "mobile meeting room" functionality. LanguageBox can help enterprise users achieve barrier-free communication as well as the efficient, intelligent recording and management of meeting contents. Thus it is applicable to various scenarios such as business meetings, remote video meetings, education and forums.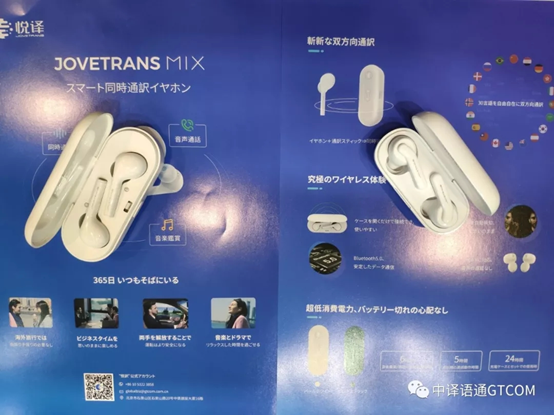 ▲ JoveTrans smart interpretation earphones were exhibited at the
Wearable Expo in Tokyo.
As the third technology expo in Japan to which GTCOM has been invited, following Japan AI Expo and Japan IT Week, the Wearable Expo helps set the foundation for GTCOM's presence in Japan and the global marketplace. At the expo, the guests from Japan's popular tourism regions such as Sapporo and Okinawa and several Tokyo Olympic Games service providers were deeply impressed by the innovative product form and outstanding translation speed and quality of GTCOM, and ultimately expressed the intention to cooperate with GTCOM. Thus, the company will continue on the past of technological innovation as it empowers industry upgrading and development with cutting-edge technologies. In the process, GTCOM will make AI solutions and scenario-based application products available for users throughout the world.