In August 2019, the People's Bank of China issued the FinTech Development Plan (2019-2021), which set forth requirements for the consolidated, rational application of fintech. The plan also raised requirements for the integration of finance and emerging technologies such as big data, cloud computing, AI, distributed data and identity verification systems. As a technological innovation enterprise with a leading position in fintech and research data analysis, GTCOM has presented new thoughts of fintech application relevant to "Global Research and Technology Discovery" in the "Forum for Technological Innovation Industry Decision Makers" held recently.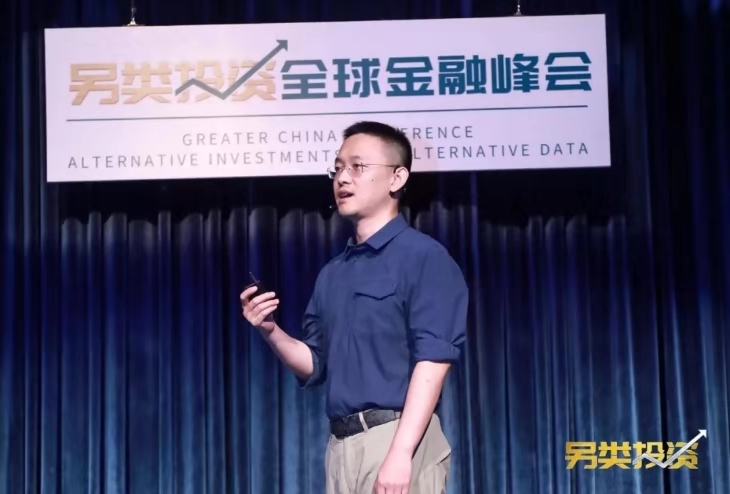 ▲GTCOM CEO Eric Yu: Global Research and Technology Discovery
Utilize data with new technologies
With "20 billionof global technology information data, 130 million of global patent data, over 100 million of core scientific literature analysis data, etc.," JoveEye (global research and technology discovery system) based on massive global technology data was officially unveiled at the "Forum for Technological Innovation Industry Decision Makers." Eric said that, relying on our language genes, global data genes and global technology genes, GTCOM has developed the "Global Research and Technology Discovery System," hoping to fully utilize its global research and technology discovery ability in the future to "discover the future of technologies."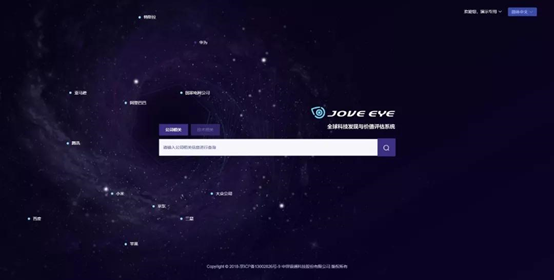 事实上,海量的科技数据一直都存在,缘何在最近几年成为业界关注的焦点并将其应用到垂直的产业之中?在于洋看来,从AlphaGo到Master的一个个里程碑的事件,标志着以神经网络机器翻译和自然语言处理算法为代表的大数据和人工智能时代的崛起。于洋坦言,虽然当前这些新技术的应用仍然面临很多挑战,但正是自然语言处理、知识图谱和机器翻译等信息技术的发展,赋予这些数据新的生机,使得我们能够将冗长的发明专利文档进行解构计算,将专利中的关键要素挖掘出来,将科技实体之间的关联关系建立起来,为我们多维度量化评价一项技术提供了有力支撑。
In fact, the enormous amount of technology data has always existed. Why has it become the focus of the industry in recent years and been applied in vertical industries? In Eric's view, milestone events from AlphaGo to Master have all marked the rise of the era of big data and AI represented by neural machine translation and natural language processing algorithms. Eric said frankly that, although there were still many challenges in the application of new technologies, the development of information technologies such as natural language processing, knowledge graph and machine translation has provided new methods of data application, which would allow us to deconstruct and calculate the lengthy patent documents, collect key elements of the patents, and establish the relationship between science and technology entities so as to provide a strong support for the evaluation of certain technologies from different perspectives.
With regard to how to scientifically evaluate a technology company, or how to judge its true technical and R&D strength, Eric said that after more than six months of hard work, GTCOM has cooperated with Shanghai Stock Exchange Technology Co., Ltd. and other well-known scientific research institutions to provide new thoughts for the application of the Global Research and Discovery System.
Provide corporate portrait with smart algorithm
How to discover new technologies and evaluate the value of technology enterprises with the help of enormous technology data? Eric demonstrated the technology discovery map based on semantic analysis and semantic search technologies on the forum. For example, with the previous search method, users may only get search results of Chinese contents related to "UAV." However, with the semantic search technology, users can receive relevant contents of "UAV" in different languages. In this case, we are able to discover the relevant technologies in the industry sector, discover enterprises and talents, and help companies quickly discover the latest and most powerful technology hotspots in China and elsewhere.
Eric stated that by employing technical means to analyze global patent data, global technology information data and global dissertation data, we can also evaluate and analyze the R&D input and R&D team of enterprises, calculate their comprehensive innovation scores and industry rankings, and identity their technical domain, main technical direction and R&D strength over the long term.
In fact, there is a logical and rigorous evaluation system to support the discovery of new technologies and the objective evaluation of their values. Thus, Mr. Yu referred to this evaluation system as the gold standard. He said, based on the advantage of massive technology data, the evaluation logic and system, established by regulatory authorities, intellectual property industries, investment banks, funds and R&D institutions through research and discussion, can perform panoramic analysis of the technological innovation capability of target enterprises from four aspects, i.e., the scientific and technological innovation index, enterprise stability index, investment risk index and market-influence index, so as to help institutions intelligently discover technological innovation companies, and quickly and objectively judge the direction and value of technology investment, thus effectively promoting the integration of finance and technology and empowering technological innovation throughout the industry.
Discover the new blue ocean of smart evaluation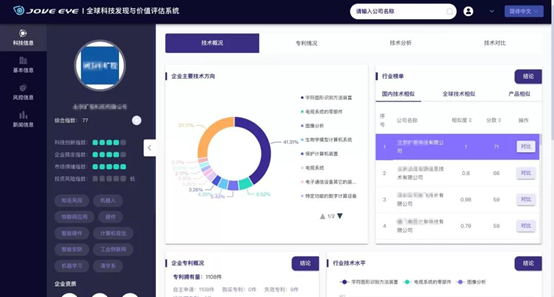 Mr. Yu believes that the integration of finance and technology will have two results, financial technology and technological finance. As a company deeply engaged in fintech and scientific research data analysis, GTCOM participates in the development of the financial industry through the creation and development of technologies.
GTCOM, in its exploratory endeavors, has discovered a new market in which global technology data can be used to evaluate the strength of companies by providing portraits of their technical strengths. With the introduction of the science and technology innovation board, more technology companies need to use data to objectively evaluate their values, which has accelerated the development of the evaluation market. As mentioned by Liu Ti, the deputy general manager of Shanghai Stock Exchange Technology, the science and technology innovation board has greatly vitalized China's capital market and its technological innovation industry. Moreover, according to the data calculated by Huatai Securities, new demands for fintech brought forth by the science and technology innovation board under neutral conditions have reached more than RMB 800 million.
GTCOM, based on prospective market demand, has put forward a new thought of "new technological innovation, intelligent discovery and smart evaluation." GTCOM hopes to join hands with Shanghai Stock Exchange Technology Co., Ltd. and other industry peers to empower the technological innovation industry with innovations based on "Global Research and Technology Discovery System" so as to motivate success for the technological innovation industry of Shanghai and the world.