"The future isn't terrible, but what is terrible is that we still use the same old logic for a changing future."

Peter F. Drucker, management guru

There is no permanent winner on the battlefield, and even industry giants should keep pace with changes on a track that consists of varied terrain. Technology, as a beacon, can promote the transformation of enterprises in their efforts to break through industry bottlenecks, implement enterprise strategies, create business models and resolve competition-related issues. Additionally, it can solve the inefficient operation of enterprises and help them seize opportunities to seize the fast track of development and eliminate congestion in enterprises.
Although each enterprise has its own unique business path, the problems that constitute congestion are common to all:
Some enterprises face multi-pronged work due to overstaffed organization and system chaos;
Some have high costs due to the large number of overseas services and translation needs;
Some need distance education due to cost limitations and lack of training;
Some spend much time taking minutes due to the large number of projects and frequent meetings;
Some have to move their offices on a business trip due to business needs and often face traffic and network congestion.
The aforementioned problems are like the big boss in a game. The more powerful your equipment is, the more monsters you can fight and the more sophisticated means you'll have. Thus, you'll reap greater rewards. So, if you want to solve the congestion problem of running a company, you might as well upgrade your equipment and use technology to eliminate the barriers that inefficiency represents.
LanguageBox is a smart conferencing solution developed by GTCOM, an enterprise devoted to big data and artificial intelligence. It integrates functions such as smart note-taking, synchronous meeting and multilingual translation. It can transcribe the conversations in a meeting into real-time subtitles and present them dynamically so that no detail is missed. It lets you export "smart note-taking" files with one click after the meeting, making the meeting traceable. It also provides translations in 37 languages for different fields such as education, finance and technology. In the case of the mobile office, by using LanguageBox--which is compatible with video conference systems--you can participate in multilingual video conferences and watch live streaming with photos and words anytime and anywhere. So, you'll dramatically reduce the costs associated with labor, travel and communications while improving your efficiency in all aspects of operations.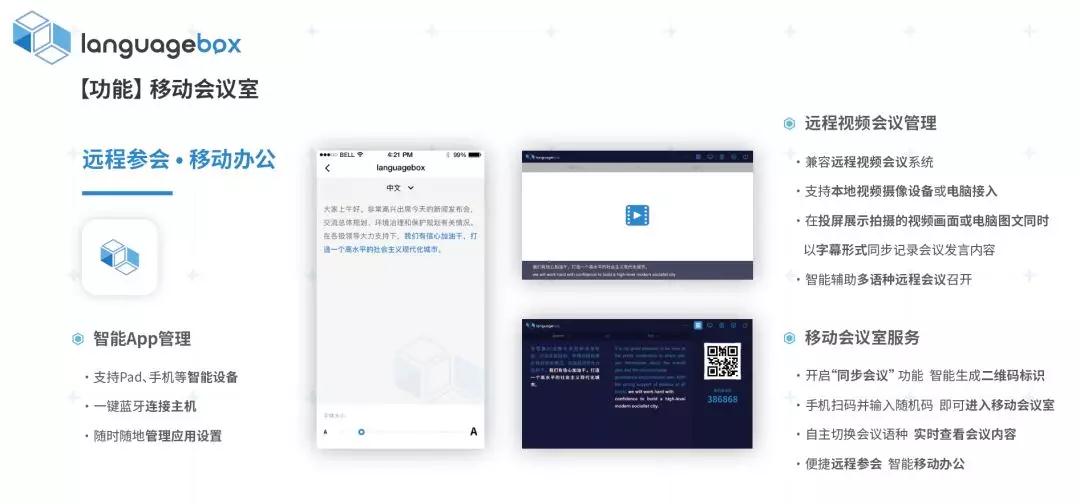 Every technological innovation has its power.
LanguageBox,
from R&D to application,
activates the development potential of business
and drive enterprise upgrading
through its powerful functions.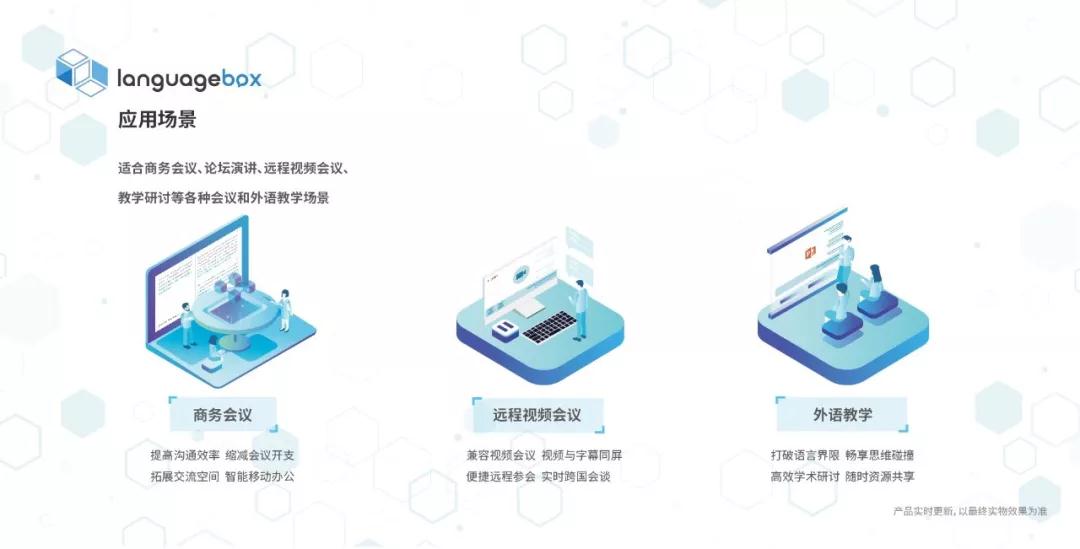 Reminder
*Interested buyers*
Please dial:
400 119 8181
E-mail: