GTCOM Hong Kong Trading Link 100 Index, jointly developed by Global Tone Communication Technology Co., Ltd. (hereinafter referred to as "GTCOM") and Shenzhen Securities Information Company Limited (SSIC) under Shenzhen Stock Exchange, was officially launched on Wind and CNI. The index code is 980005. Adopting a stock-selection strategy based on big data, GTCOM Hong Kong Trading Link 100 Index demonstrates the operational characteristics of quality stocks of "Hong Kong Trading Link." It promotes the development and innovation of index-based investment while giving investors an investment instrument with the capacity for new market scale.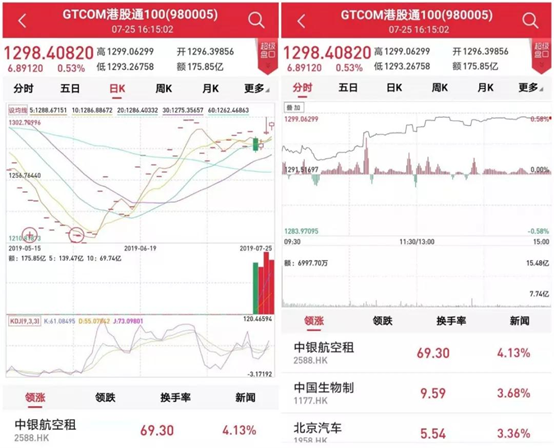 GTCOM Hong Kong Trading Link 100 Index includes pure price index and total return index denominated in RMB and HKD. The scope of selection covers all the stocks of Hong Kong Trading Link under "Shenzhen-Hong Kong Stock Connect." In accordance with the big data-based stock selection strategy, GTCOM uses artificial intelligence (AI) and big-data analysis technologies to analyze massive data globally, combines the traditional financial factors with the alternative factors deconstructed with GTCOM's unique algorithm, and employs SSIC's "Easy Index" system to calculate real-time market status. GTCOM Hong Kong Trading Link 100 Index has been simultaneously launched on CNI and the terminals of other information providers. Based on the backtesting of data from 2015 to 2018, the accumulative yield of GTCOM Hong Kong Trading Link 100 Index was 34.65%, the annualized yield was 7.72%, and the Sharpe ratio was 0.313. Moreover, it successfully maintained a steady upward trend.
The big data-based index strategy can make up for the shortcomings of low timeliness and narrow range of data types found in traditional data, and consequently it empowers more reasonable investment decisions by the user. GTCOM Hong Kong Trading Link 100 Index leverages a data set that is broad and very deep. Through various forms of big data used globally, a quantitative investment model can be established to review and track investment objects in the global market. As a result, the investor can access more open transaction ideas and choose appropriate investment opportunities. Through big-data analysis, risks present in the investment process, investment objects and market environment can be identified in real time. Additionally, risk factors can be introduced into the investment model. Market changes and opportunities can be captured in a timely manner so that market risks can be mitigated.