Global Tone Communication Technology Co., Ltd. (GTCOM), on July 31, launched the world's first technology big-data platform for cross-language intelligent semantic search and analysis at the "Hi, Five" 2018 GTCOM Brand Strategy Conference. Relying on AI big-data technologies such as deep neural networks, knowledge graphing and cross-language full-text semantic analysis, the platform offers such functions as large-scale technology knowledge graphs generated on the basis of global massive technological data, enterprise-level machine translation in the field of technology, unique technology map presentations and panoramic data analysis, whereby users can become experts in global technology information search and analysis and use that technology to help explore the future of technology itself.

Breaking the language barrier . . . lowering the industry threshold

Today, basic and frontier technologies are integrated, and disruptive innovations continue to emerge in the form of a powerful trend in international technology innovation. Thus the various developments increasingly emphasize multidisciplinary integration and major innovation breakthroughs, and disruptive innovations are seen in all major professions, regions and languages. Accordingly, JoveEye has achieved regular incremental updating of patents, journal articles and global information based on large-scale fine-grain technological knowledge graphs.


Based on multilingual knowledge graphs in the field of technology, JoveEye uses cross-language full-text semantic search and supports the input of complete paragraphs and chapters. With the support of neural network machine translation in vertical areas, JoveEye dramatically enhances the efficiency of the search process--and the accuracy of results--without the need for manual analysis of keywords. This is because JoveEye has a built-in semantic relevance sorting and cross-language semantic search model that searches full-text data in different languages so as to quickly transcend cross-language reading barriers and ensure the absolute control of global technological information. One guest, for example, said the arrival of JoveEye represented a revolutionary change in the use of information in the field of technology.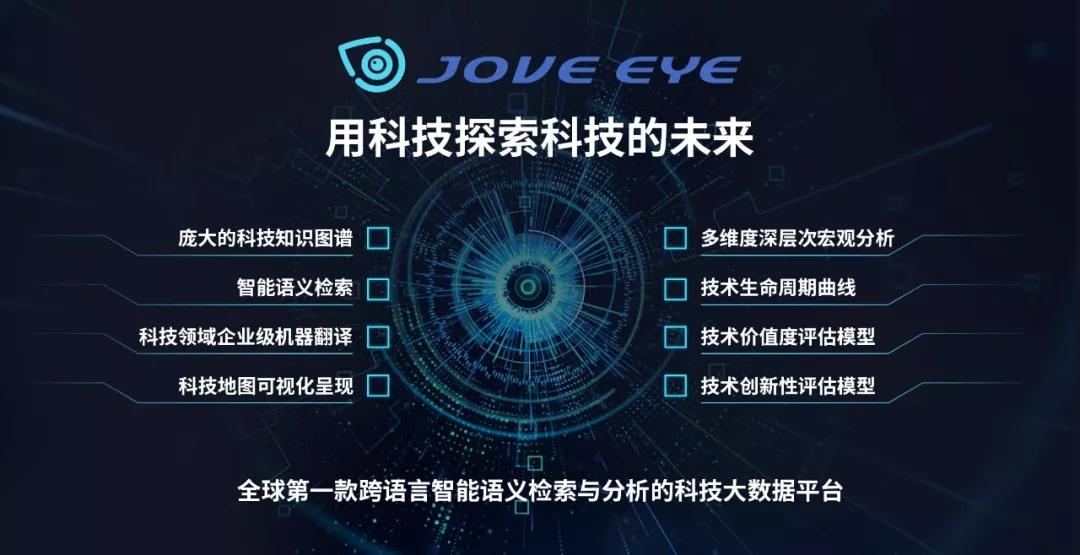 Multi-dimensional and in-depth macro analysis Extending technological information
Technological research and development is an unending process because better, more profound innovation requires that one truly understands the direction of that development. JoveEye's powerful macro-analysis module for intelligent semantic search achieves the full-chain connection of technological achievements and technologies from different perspectives as they pertain to the industrial sector, region, technology type, quality and even custom analysis. JoveEye, based on various analytical charts and models built through unique algorithms, automatically discovers the distribution of core concepts and efficiently acquires technological innovation hotspots with which to assist scholars at universities and research centers, enterprise R&D personnel, intellectual property professionals, investment organizations and government authorities in their efforts to grasp the technological trends and coordinate their corresponding developments in the realms of theory, technical application and social acceptance.
Unique AI algorithmsExploring the intrinsic value of technological information
Innovation is the soul of technology, and value is its outer manifestation. Therefore, JoveEye--based on models for technological innovation analysis and value calculation made possible by unique AI algorithms--sets forth objective evaluation criteria for technological innovation and value using objective data and algorithms, and in the process it accelerates technological innovation and guides the transformation of technological achievements. It has extensive practical application in different scenarios such as novelty analysis, patent-search authorization analysis, technological achievement transformation and patent operation in the fields of novelty search as well as duplicate checking and patenting for technological documents.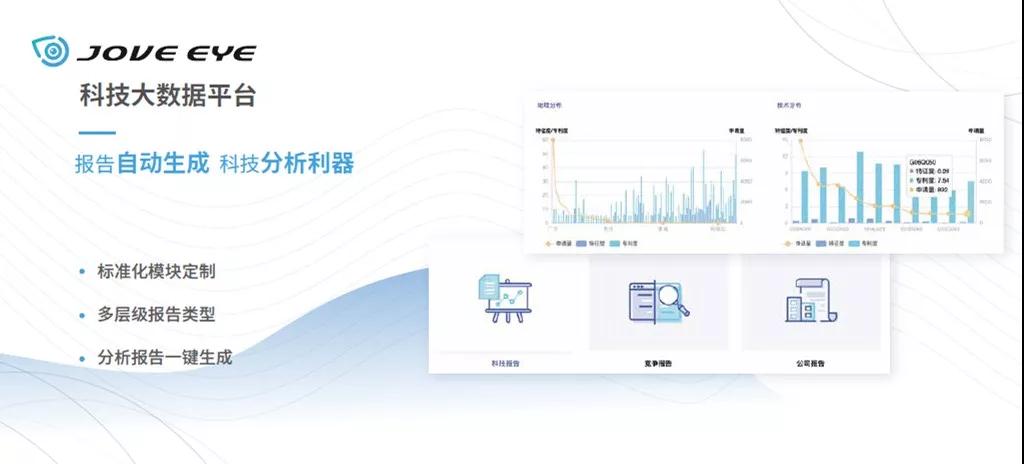 Active and intelligent tracking, one-click report generation
The world has entered the age of the knowledge economy. However, in order to master the core technology, one must first master the initiative of future development. Thus, technological innovation has fused itself with the core of the country's competitiveness, and the core effort--technology research and development--is an ongoing process. JoveEye can customize information-acquisition conditions, allow the active, intelligent push of the latest information in a field of interest, track and master the technology trend in a timely manner, and generate reports based on global technology and information data from multiple aspects such as technology, companies and competitors. This one-click generation feature gives the user a global view.
Opening a new model of scenario-based technology information service
JoveEye, with its powerful intelligent semantic search and analysis capabilities, helps scholars at higher education institutions and research institutes, enterprise R&D personnel, intellectual property professionals, research foundations and government authorities track the latest technological trends, identify the hottest areas, determine the direction of research, dial in their R&D efficiency, improve fund allocation and avoid legal risks. Ultimately, JoveEye is reshaping the pattern of the technology information industry.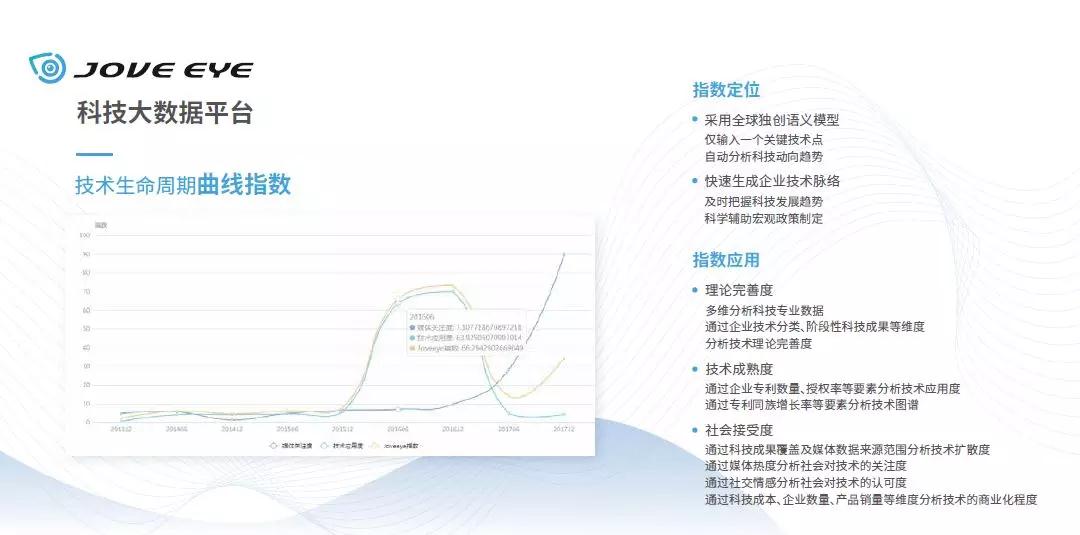 CEO Eric Yu, speaking at the press conference, took drone technology as an example and made a detailed analysis of JoveEye's functionality. The system's technology life-curve algorithm facilitates the analysis of a development roadmap and the development trend of drone technology in terms of theoretical perfection, technology application and social acceptance. The corresponding technology graph can be visualized by means of the technology map and identify the relevant hotspots while guiding technological R&D and investment. JoveEye's novelty evaluation and value evaluation algorithms can help R&D personnel improve their innovation efficiency and explore achievements of the highest potential value.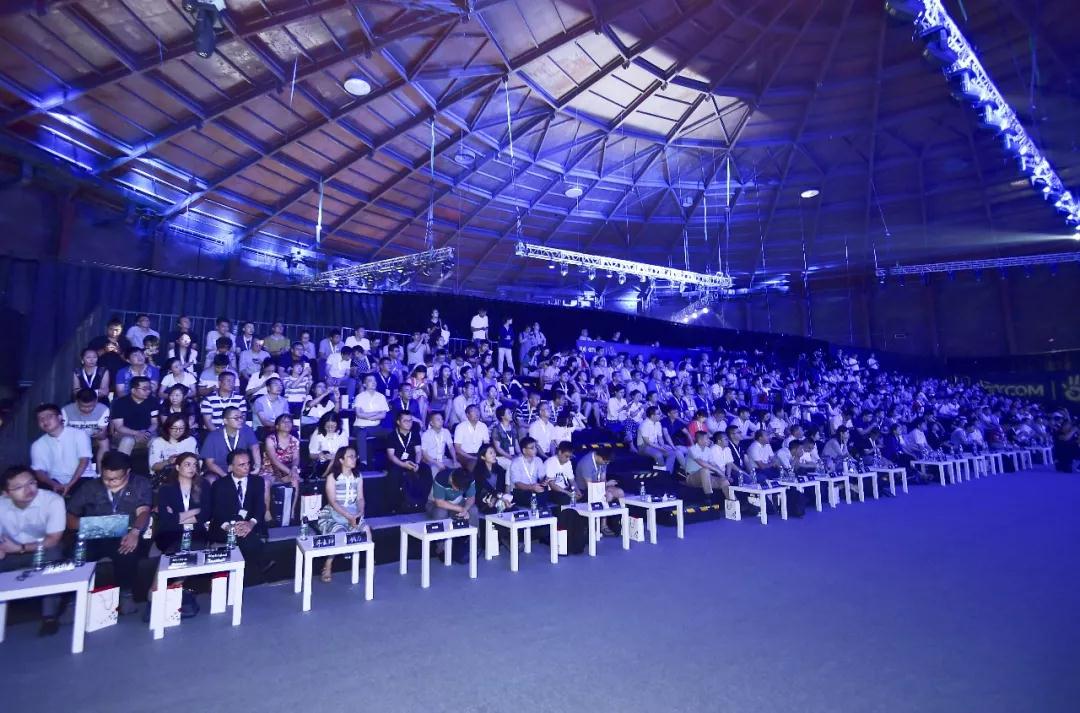 The launch of JoveEye represents GTCOM's continuous effort to build a new intelligent business ecosystem. It also marks the successful scenario-based application of GTCOM's cross-language big-data technology in the global technology field. In the future, GTCOM will continue to focus on the global strategic layout of big data and accelerate the cross-industry applications of AI language technology, with a view to helping technology development and empowering enterprises.