The GTCOM LanguageBox Channel Conference was held in Beijing on April 12, 2019. More than 100 government and enterprise representatives from many fields, including technology, finance, energy, telecommunications, automobile, education and others, gathered at GTCOM to witness the tremendous value of language-technology products in the era of AI big data. GTCOM CEO Eric Yu delivered a speech, and CTO Cheng Guogen and Vice President Elena Zhang described the product highlights and channel policies, respectively. Additionally, they signed channel strategic cooperation agreements on behalf of the company with YixinTechnology, Founder International, Huawen Chenghe and Jingyuan Shifang.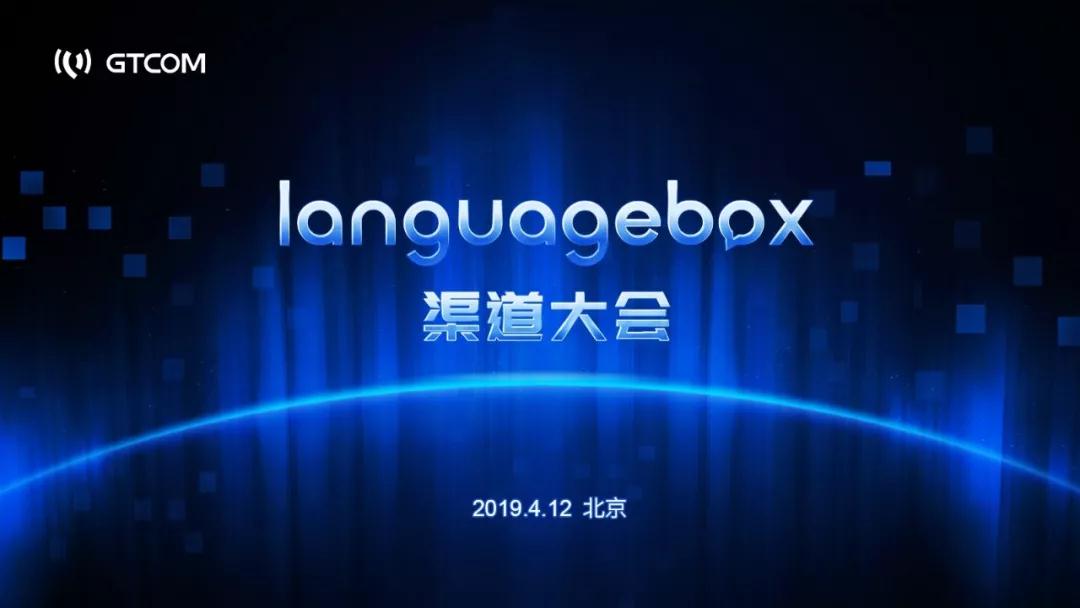 ▲GTCOM LanguageBox Channel Conference held in Beijing
Mr. Yu started the conference with an introduction to the strong foundational support for the development of GTCOM's machine-translation technology based on data capability, algorithm capability and AI big data technical capability combined with the company's development history and strategic layout. Moreover, he explained the changes and significance brought by the development of machine translation technology to human society and life. In his opinion, the greatest significance of machine translation lies in its ability to broaden and deepen human cognition. According to Mr. Yu, the amount and quality of data play a decisive role in widening the gap of machine-translation quality when the technologies are comparable. Data and quality are essential for the future of machine translation.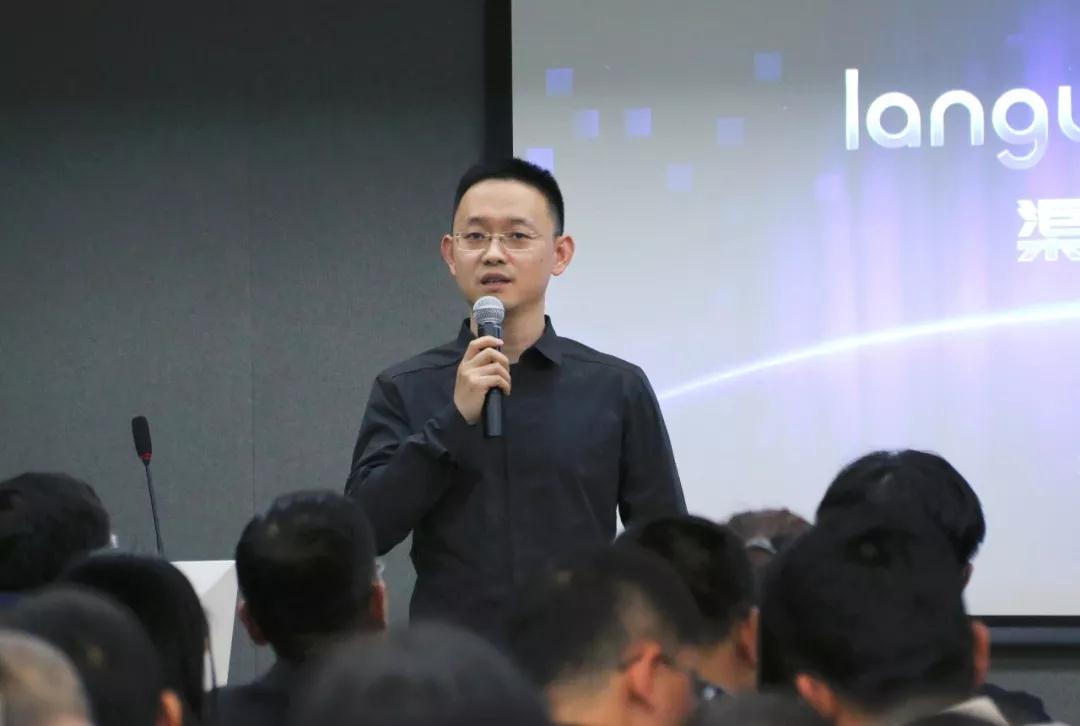 ▲Eric Yu, CEO of GTCOM
Frontier technology is the driving force behind product innovation and industry development. As CTO Cheng Guogen said, "This is the first smart conference solution for enterprise customers." Based on the company's leading machine translation, speech recognition, big-data technology and rich corpus data resources, LanguageBox offers high-quality machine simultaneous interpretation service, smart note-taking and mobile conference management capabilities. It dramatically changes the way people communicate at work and facilitates the scenario-based application of AI big-data technologies in the field of language services.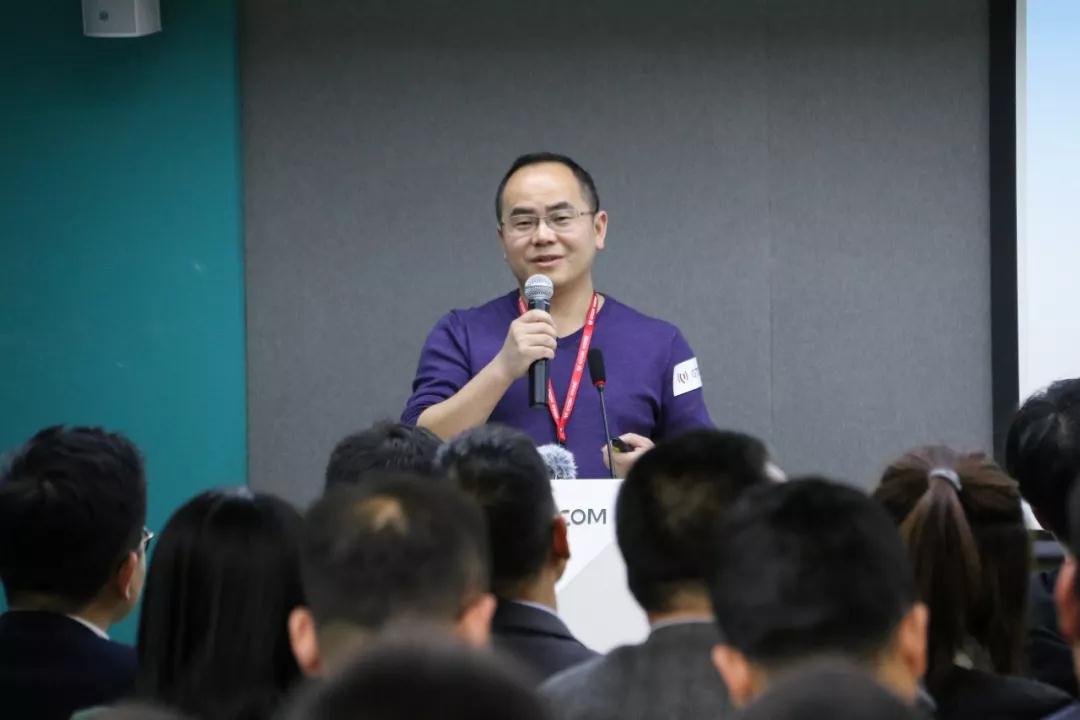 ▲Cheng Guogen, CTO of GTCOM
No matter how big the market is, it still isn't advisable to fight alone. LanguageBox is a high-quality, comprehensive AI language-technology product. Accordingly, Ms. Zhang introduced the 2019 channel policies of LanguageBox in detail, focusing on the means to build a cooperative partnership characterized by mutual trust, mutual assistance and win-win cooperation. Additionally, she described how to provide language-technology services for more enterprise users. Ms. Zhang said GTCOM strives to create a fair, transparent environment for cooperation and achieve win-win cooperation with partners through mutual trust and assistance.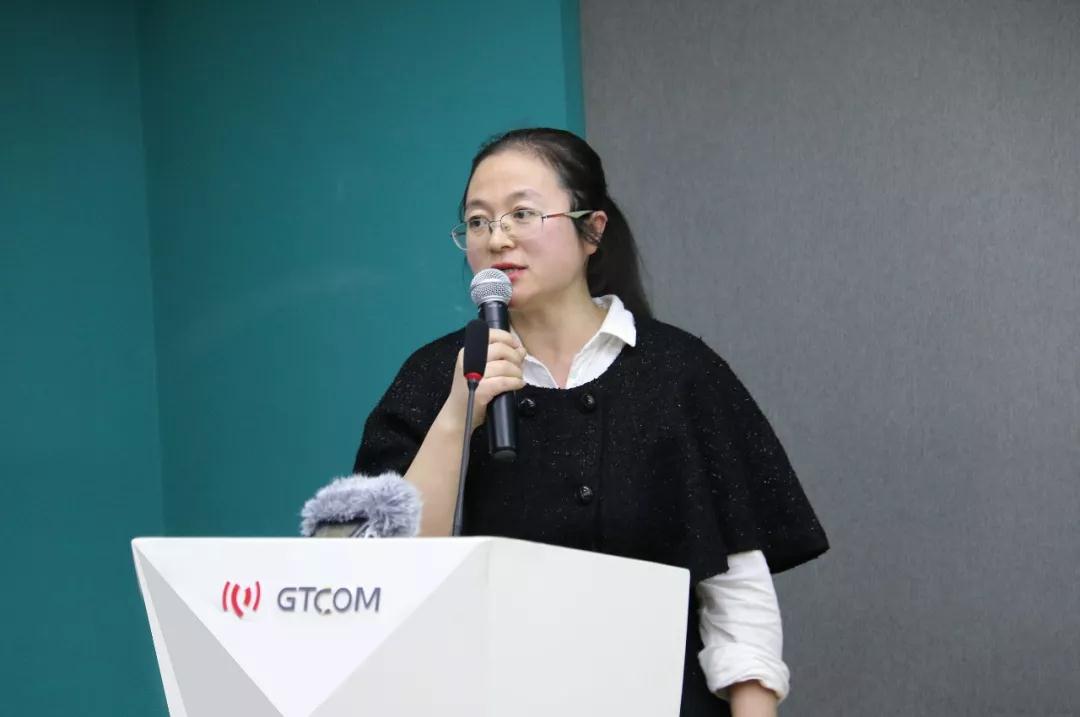 ▲Elena Zhang, the vice president of GTCOM
At the on-site signing process, representatives of channel enterprises at all levels from different industries, including Yixin Technology, Founder International, Huawen Chenghe, Jingyuan Shifang, HuaxiaJinghong, Lanchuang Sifang, Lianzhi Zhongxin and Jingjia Technology--signed contracts with GTCOM within just ten minutes. Meanwhile, many other enterprises made clear the intention to sign agreements.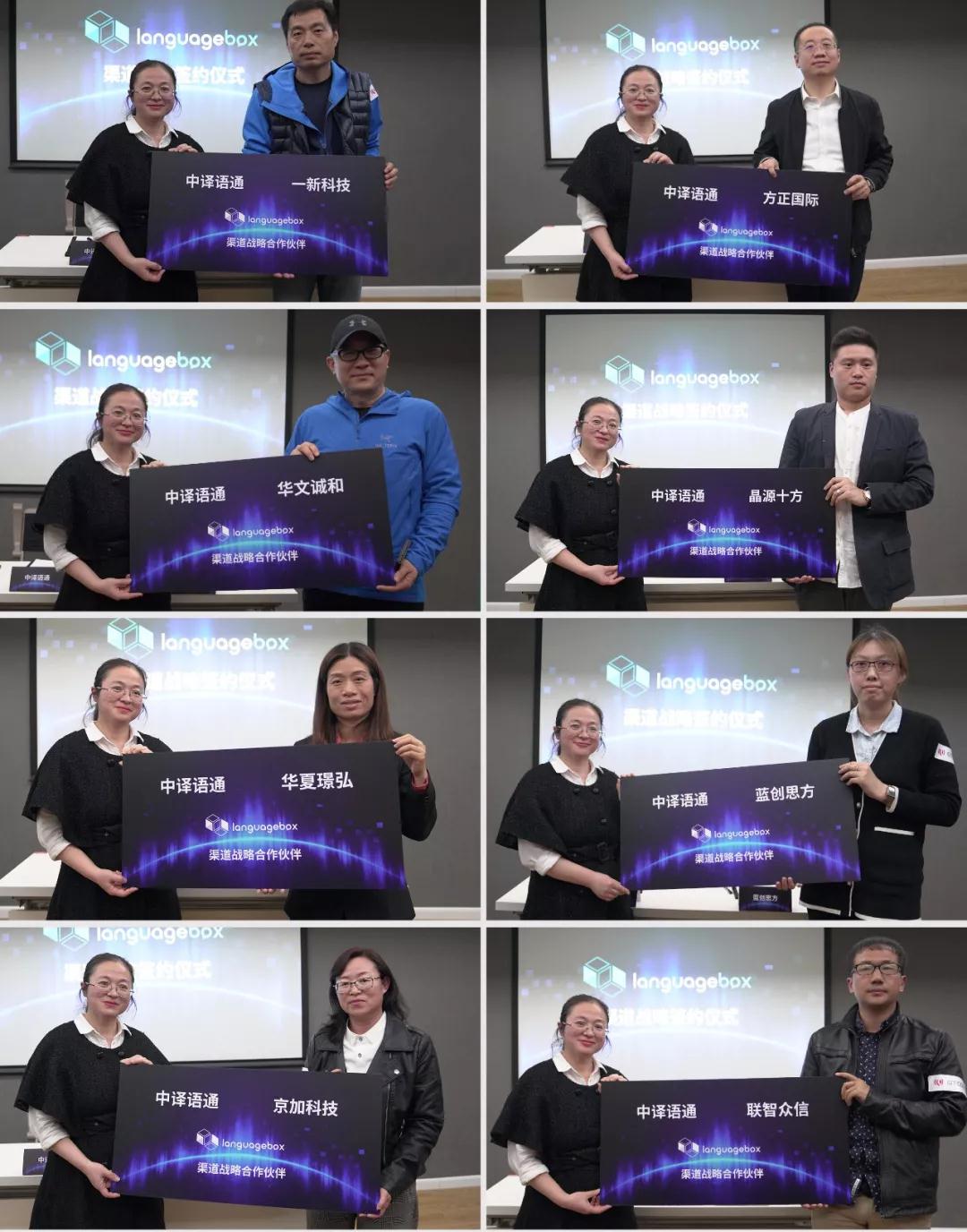 ▲GTCOM signs with a number of channel strategic partners on site
LanguageBox has been widely recognized by distributors for its technological prowess and product features. Not only does it enhance the efficiency of meeting communication, smart meeting content management and mobile office, but it also profoundly changes the way people produce and work. LanguageBox improves labor efficiency, reduces enterprise costs and provides a new way of thinking for enterprises to achieve high-quality development.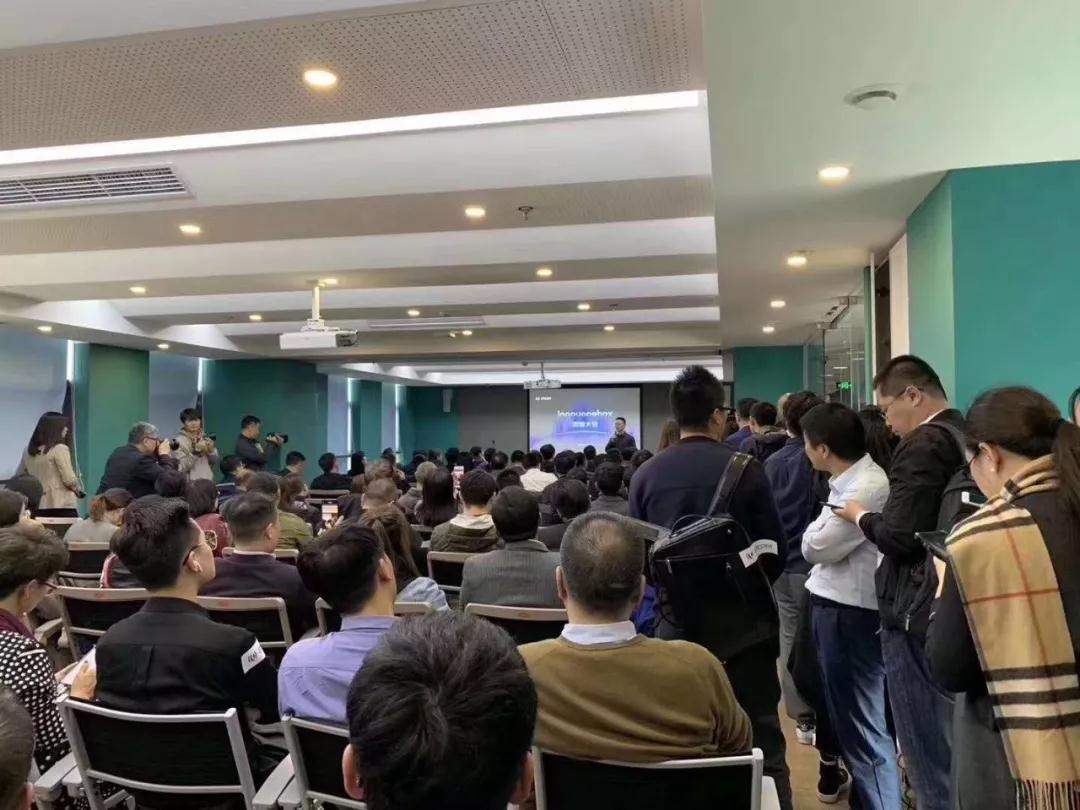 Meeting site
LanguageBox launched
In terms of AI simultaneous interpreting, LanguageBox--thanks to cutting-edge machine translation technologies and vast, high-quality data resources--provides machine translation services in 37 languages, including Simplified Chinese, English, Spanish, Japanese, Portuguese, Korean, French, German, Arabic and Russian. Thus, it helps people complete their work more efficiently. Additionally, LanguageBox supports the customization of machine translation engines in more than 20 different fields, including finance, law, technology, healthcare and spoken language. It is worth mentioning that machine translation technologies used by LanguageBox have won a number of international machine translation awards and filed more than 30 patents, leading the industry.
▲High-quality AI simultaneous interpreting solution
In terms of smart note-taking, not only does LanguageBox intelligently generate audio and visual multilingual meeting minutes, but it also supports local storage and external storage. The flexible storage and convenient exportation of minutes simplifies and enhances the inquiry of minutes and summarization of meeting points as it facilitates quick management decision-making.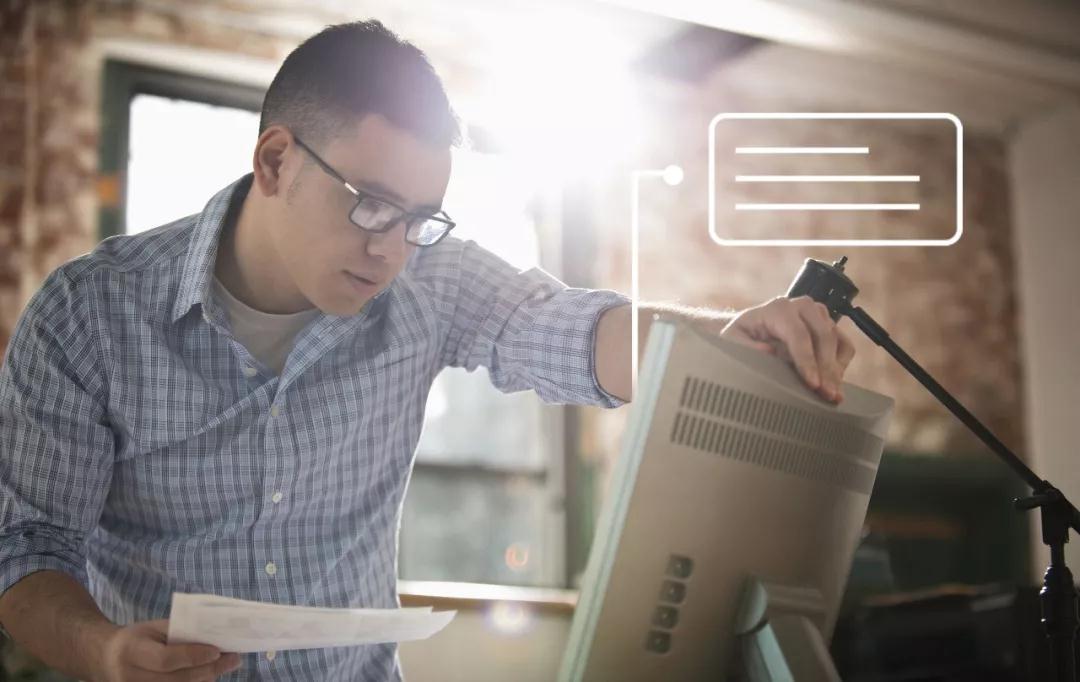 ▲Smart annotation solution
As long as you scan the QR code of "Synchronous Meeting" on your mobile phone and input the random code of the meeting room, you can access the mobile meeting room. You can obtain the meeting content anytime, anywhere, through the convenience of a remote meeting and smart mobile office. When a remote video meeting is held, only the camera equipment of the local remote video meeting needs to be connected to the HD multimedia input interface of the box. So, one can watch the live video with subtitles and check the minutes, effectively achieving cross-regional and cross-language meeting communication. If you're a meeting administrator, you can use smart devices such as mobile phones and tablets to connect the APP and manage the application settings anytime and anywhere. Smart meeting management is fast, easy and comprehensive.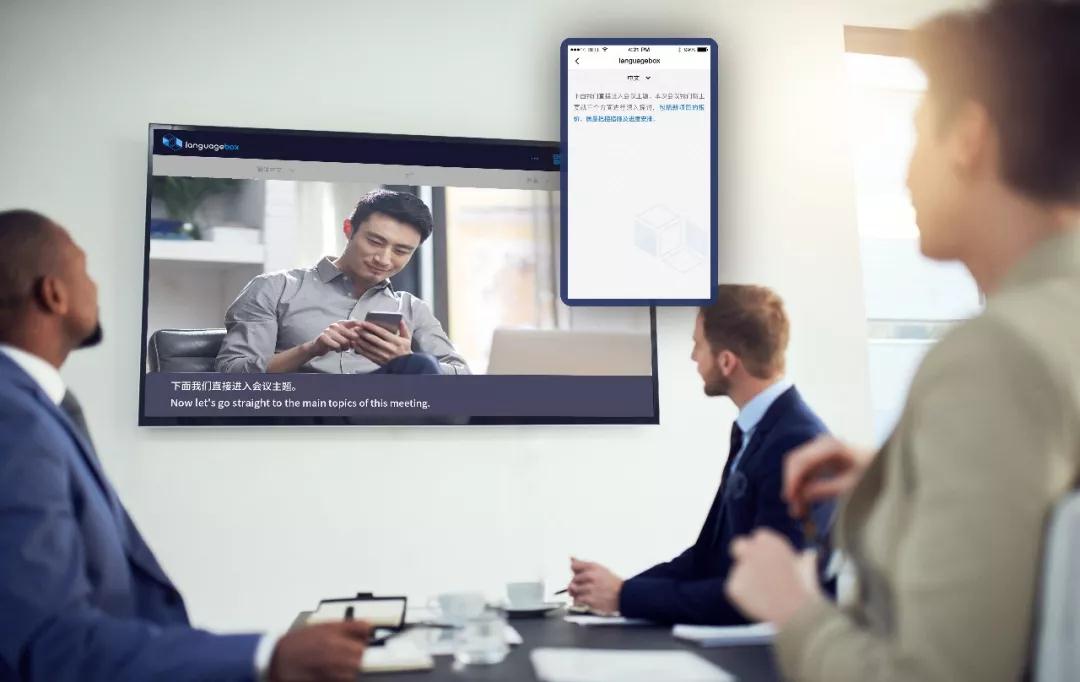 ▲Mobile meeting room solution
At present, a new wave of industrial revolution has arrived, bringing opportunities to enterprises to explore the AI big data era. According to the Planning for the Development of New-Generation Artificial Intelligence issued by the State Council, China's core AI industry will reach a size of RMB 150 billion in 2020 and more than RMB 1 trillion in 2030. Amid this vast market, GTCOM hopes to share the dividends of AI with more partners in the era of big data through the leading technologies and high-quality language-technology products.