CEO Eric Yu, leading the "Hi, Five" 2018 GTCOM Brand Strategy Conference held on July 31, 2018, officially released the MerCube enterprise-level machine-translation server, which represents a revolutionary machine-translation service model as opposed to a traditional one and pioneers the application of artificial intelligence in contemporary enterprises.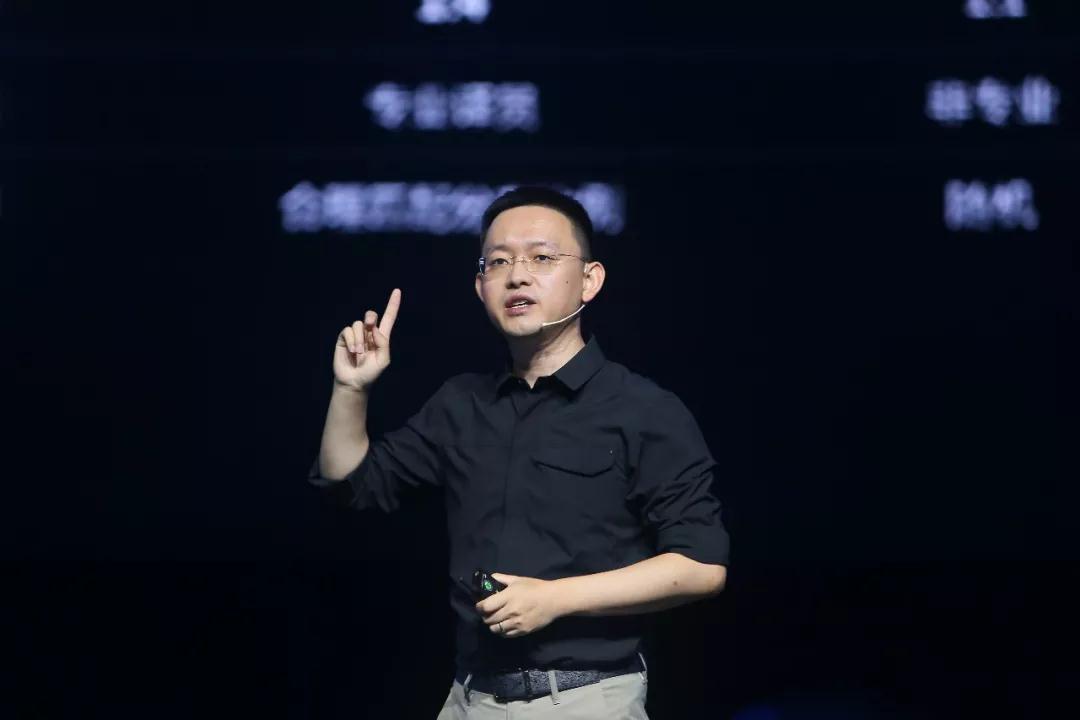 MerCube
High-performance configuration for efficient information processing

MerCube is powered by the NVIDIA® Tesla® V100, a world-class data-center GPU that provides 30 times more processing power than a conventional CPU server. MerCube uses NVIDIA® NVLinkTM technology to deliver greater bandwidth and more links for increased scalability of multi-GPU and multi-GPU/CPU system configurations. A single NVIDIA® Tesla® V100 GPU can support up to six NVLink links with a total bandwidth of 300 GB/sec., which is 10 times the bandwidth of PCIe 3.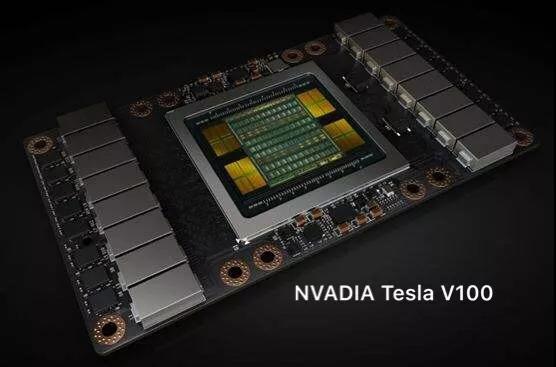 Taking machine translation and speech recognition as an example, a MerCube MT G4 can process up to 8,000 words per second, but an MT G8 can process 16,000 words per second. Within the span of a minute, MerCube ASR can recognize, analyze and export an AV (Audio-Visual) file that is one hour long. Given such incredible translation speed, it easily satisfied to the huge amounts of information translation required by enterprises. In the process it saves manpower and financial expenditures.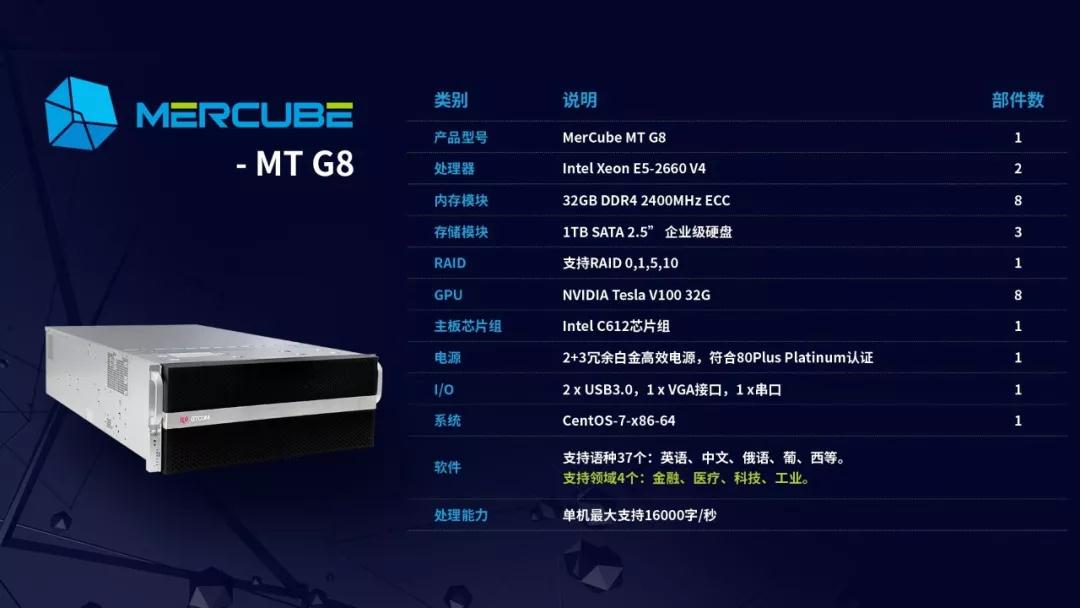 MerCube
Customizing various all-in-one solutions
Information security continues to receive great attention. Accordingly, MerCube provides an exclusive, privately deployed method whereby information runs in a controlled environment and original texts and translations are stored locally. Consequently, the challenge of data security is resolved from the start. In terms of the products developed by GTCOM, this translation plug-in--based on machine translation--addresses the page-side translation needs while the document-translation system meets the document-translation needs. YeeCaption and the video analysis tool solve the audio/video translation needs, and photoTrans satisfies the image-translation needs. Moreover, products such as the webpage translation plug-in, the document-translation system, YeeCaption and the video analysis software can be seamlessly integrated with MerCube MT hardware to address every security-related need. MerCube MT even provides customized services by offering an exclusive machine-translation engine that combines user data with its own general data.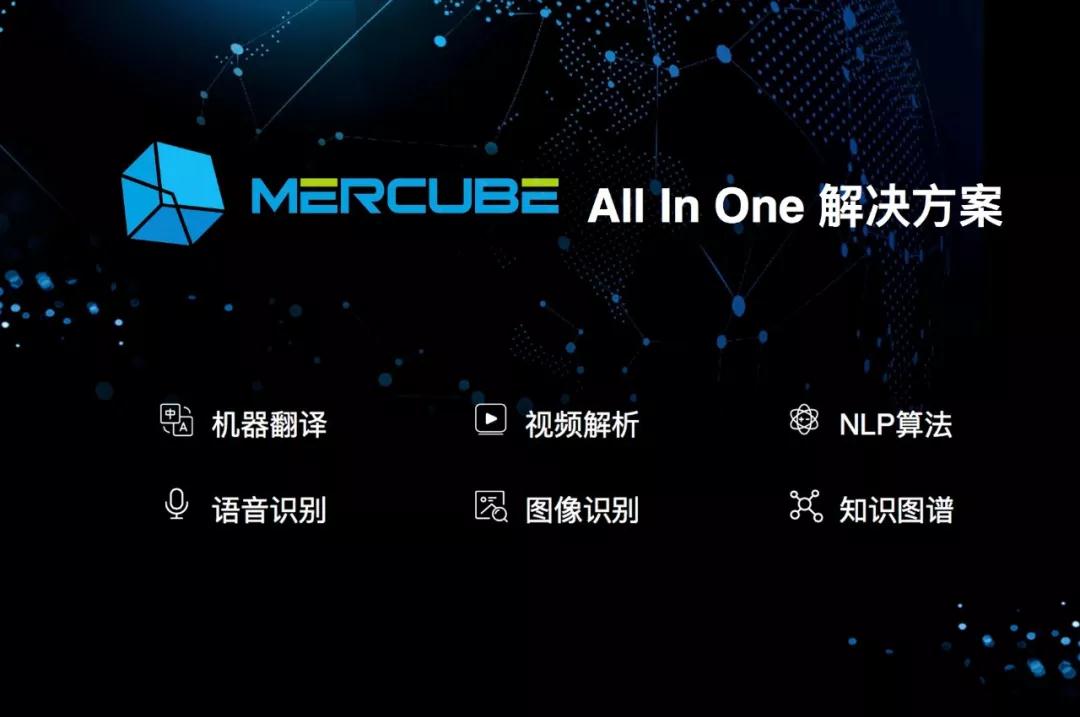 In addition to machine translation and speech recognition, MerCube can build AI algorithms and engines such as those used for image recognition, video analysis, NLP algorithm and knowledge graphing, all with seamless hardware integration. Thus, MerCube is a visual carrier of AI technology. It can flexibly match a translation engine, a speech-recognition engine, an NLP processing engine, and an audio/video processing engine to build user-specific AI intelligent hardware products and provide custom AI services for the benefit of users.

Four-year road to machine translation
GTCOM began the independent development of a machine-translation engine in 2014. In June of that year, it released the Chinese-English statistical machine-translation engine. GTCOM is the first company in China to develop a machine-translation engine, following Google, Microsoft and Baidu.
Based upon the 45-year data legacy of China Translation Corporation, in December 2015 GTCOM released a machine-translation engine containing 37 languages, establishing itself as a Chinese company that supports the largest number of languages. In October 2016, the machine-translation engine based on neural networks was released, making GTCOM the first enterprise to provide NMT service free of charge. In December of the same year, all SMT models for 37 languages were updated to NMT units. In December 2017, GTCOM took first place in the hotly contested IWSLT competition, being the first Chinese team to do so.
GTCOM has worked in the field of machine translation for many years, and as a result the technology has transcended every prediction of its technological capability. It has successfully externalized a variety of independent products, including YeeBox, JoveTrans and other smart hardware.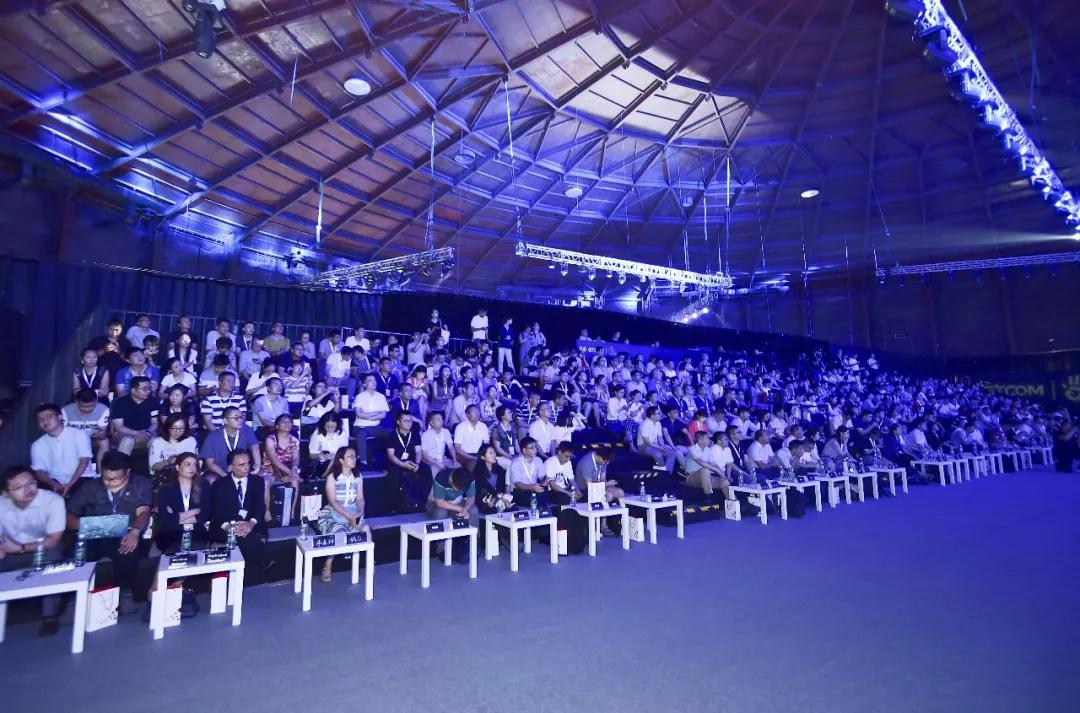 The evolution of artificial intelligence technologies represented by machine translation, speech recognition, computer vision and data-mining sharing has brought forth a tremendous range of possibilities. The release of MerCube demonstrates GTCOM's technological advantage and development potential. In the future, by giving full play to its technological advantages, GTCOM will bolster the innovation of integrated machine translation and language technology, accelerate the application of key technologies of artificial intelligence, and comprehensively advance such realms as language technology, cross-language big data and artificial intelligence. All this will be reflected in the power of data to drive progress in the era of AI.