Global Tone Communication Technology Co., Ltd. (GTCOM) held the "Hi, Five" 2018 GTCOM Strategy Conference on July 31, 2018. Elites from the fields of finance, copyright, entertainment, technology and elsewhere attended the event, as did many guests from the media sector. This conference not only provided product and technology solutions for big-data applications but also created broader cooperation possibilities for in-depth integration across industries. The conference, held on the fifth anniversary of GTCOM, also demonstrated the company's strengths and achievements in the fields of big data and artificial intelligence.

Pan Kaixiong, the vice president of China Publishing Group Corporation, and Huang Song, the general manager of China Translation Corporation and Chairman of GTCOM, delivered a wonderful speech, respectively. Eric Yu, CEO of GTCOM, released the big-data strategic layout and the latest products and solutions. Cheng Guogen, CTO of GTCOM, signed strategic agreements with several business representatives on the cooperation in the JoveEye technology big-data platform. Ren Xiaojing, the deputy general manager of GTCOM Entertainment Technology (Qingdao) Co., Ltd., launched VC Short Video. Chu Wenhai, the vice president of Founder Century, Zhou Xin, the chief news officer of Shanghai Qicheng Cultural Development Co., Ltd., Yu Yang, the deputy general manager of GTCOM Entertainment Technology (Qingdao) Co., Ltd., and Zhang Wenguang, senior vice president and CMO of Beijing Juzi Entertainment Culture Media Co., Ltd., gave inspiring speeches. Several guests offered intriguing questions and views, through which they interpreted the challenges and opportunities that the era of big data has presented to industries in every sector.
Leading the big-data industry through five years' efforts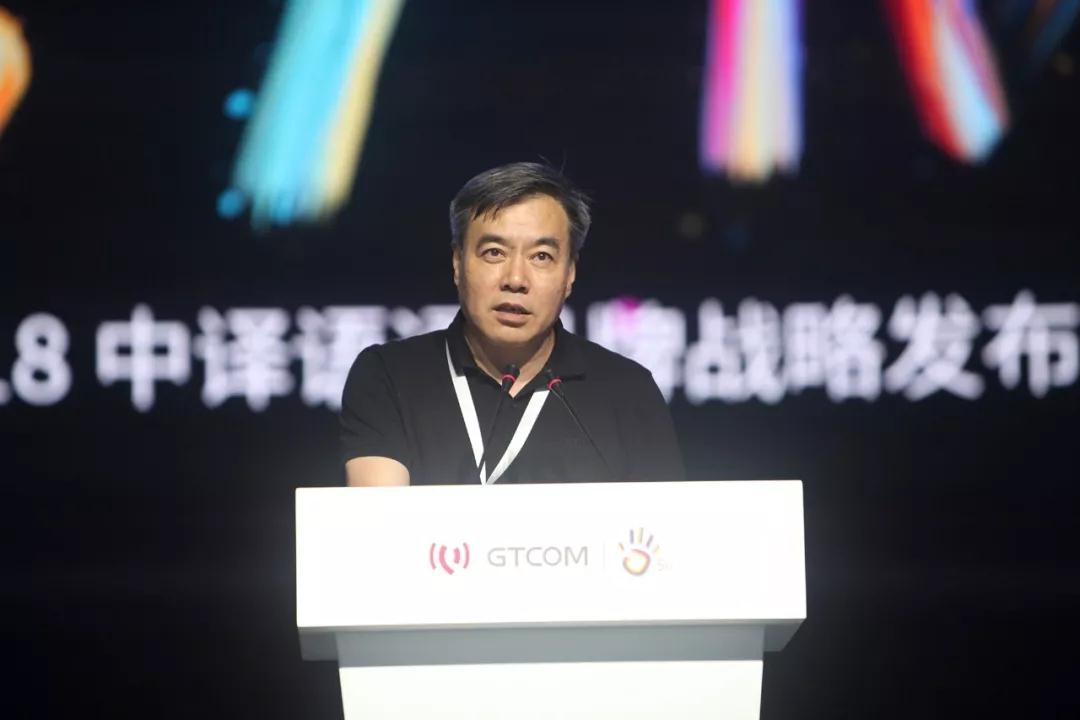 Pan Kaixiong, the vice president of China Publishing Group Corporation, gives a speech

Pan Kaixiong, the vice president of China Publishing Group Corporation, delivered a speech in which he said that GTCOM, after five years of development, has become a new technology company with expertise in multiple languages, big data and artificial intelligence, thanks to the support and concern of leaders at all levels and all walks of life. Thus, GTCOM will introduce more innovations as part of its mission to benefit society.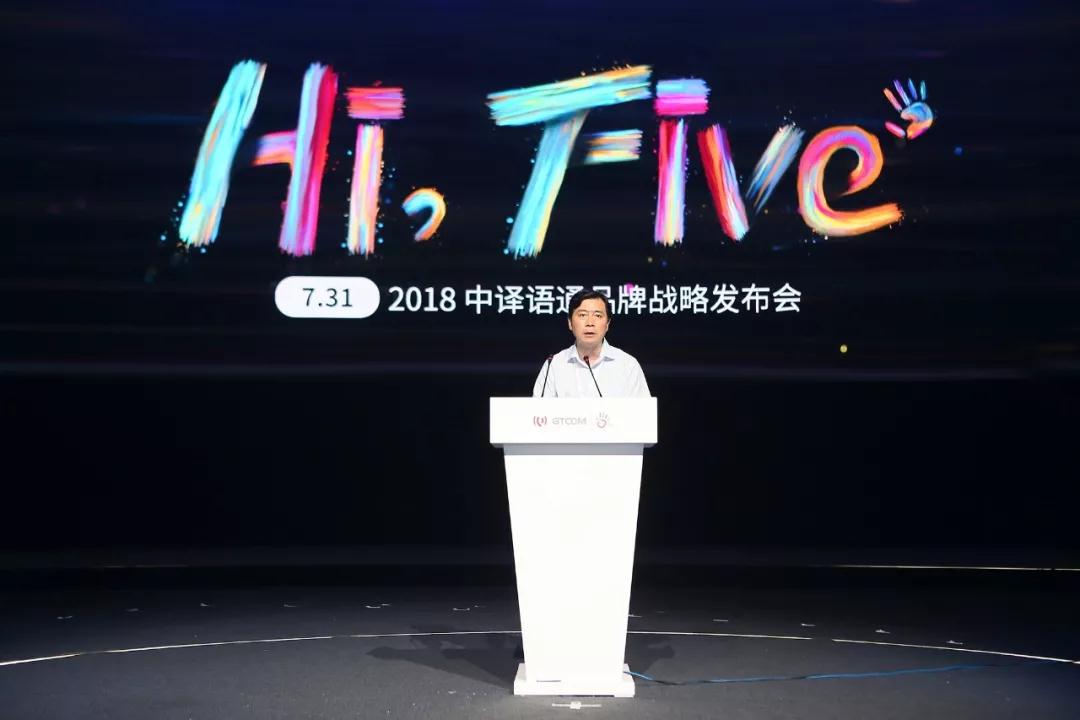 Huang Song, the general manager of China Translation Corporation and Chairman of GTCOM, delivers a speech

Huang Song, Chairman of GTCOM, noted in his speech that 2018 is a landmark year as it represents the forty-fifth anniversary of China Translation Corporation and the fifth anniversary of GTCOM. As a big data and artificial intelligence enterprise, GTCOM has laid a foundation for continued innovation in global big data and artificial intelligence, building a record of achievement over the past five years on the basis of its remarkable data advantages and profound technological legacy. Accordingly, the support of partners and customers in wide-ranging industries has contributed to GTCOM's success.
New technology application products pursue a greater presence in big data and AI

In five years, from machine translation to cross-language big data--from the "data map" to "data electrocardiogram" and to "hype cycle curve"--GTCOM has created a complete big-data technology ecosystem in multiple realms encompassing big-data governance, analysis and presentation. Thus, Eric Yu, the CEO of GTCOM, introduced three new enterprise-level products oriented toward the needs of users in various fields, thereby demonstrating GTCOM's technological leadership and future-oriented perspective in the field of big-data applications. As always, GTCOM explores dreams.
Eric Yu, CEO of GTCOM, presents the big-data strategic layout

As the saying goes, one needs to study the phenomena of nature in order to acquire knowledge. Thus, an enlightened person has foresight. To provide companies with valuable insight, the JoveMind knowledge graph building and analysis platform generates large-scale knowledge graphs as it demonstrates powerful capabilities in visualized analysis and enterprise risk control on the basis of an ever-increasing wealth of global data. Through complex network analysis algorithms and data understanding, JoveMind provides decision-making support for the challenges of competition, business territory and business association along with risk warning in terms of reputation, strategy and credit. Moreover, it fan be integrated with data in biopharmaceutical and financial technology, where it can customize different analyses and display dimensions such as auxiliary diagnosis, technology foresight and social context.
As JoveMind integrates the ever-increasing global data and using powerful knowledge graph building capabilities, visualized analysis and enterprise risk-control capabilities, it also introduces and builds knowledge graphs by integrating with data in any field, combined with industrial applications such as auxiliary diagnosis, technology foresight and social context.

Technology must inevitably be used to explore the realm of technology. Therefore, GTCOM created JoveEye, the world's first technology big-data platform for cross-language intelligent semantic search and analysis. JoveEye is aimed at industry customers who must focus on cutting-edge technology. Offering large-scale visualized knowledge graphs generated through the use of massive global technological data, it quickly develops the user's expertise in global technological information search and analysis. Through means of visualized technology maps and unique AI big-data algorithms, JoveEye helps the user analyze the core concepts and themes of technology, discover technological innovation hotspots, and generate hype cycle curves with historical data to predict the trend of technology development, accelerate the process of technological innovation and explore the potential value of technological achievements.

MerCube is the first enterprise-level AI application hardware that can be deployed privately. It's powered by NVIDIA Tesla V100, a top-class data center GPU that provides 30 times more AI processing capacity than a CPU server can. In addition to machine translation and speech recognition, MerCube can build AI algorithms and engines such as image recognition, video analysis, NLP algorithm and knowledge graph, all with seamless hardware integration. This is because MerCube is all-in-one intelligent hardware. Its mission is solve the challenges of service efficiency, data security and model adaptability while satisfying the business needs of enterprises in a wide variety of industries. It's a solution that can be commercialized in a wide range of enterprises.
Industrial layout upgraded to ensure competitive advantage
GTCOM, in its adherence to the concept of technology sharing, has continuously improved its presence in the fields of AI and big data by conducting cross-industry strategic cooperation with various vertical industries in big data and machine translation.
GTCOM and Founder Century reached a strategic partnership during the course of the conference. GTCOM CTO Chu Wenhai said the two companies would capitalize upon their strategic cooperation with respect to business-resource sharing, added-value industry channel development, brand effect superposition and intelligent ecological integration, adding that they'd endeavor to enhance their influence in big-data applications and machine translation.
Later, Cheng signed strategic agreements with Zhang Chuangang, general manager of Data Operation Product Center of Inspur Group; Wang Botao, executive vice president of CIPRUN Group; Zhou Peng, the CEO of IPRdaily; Yue Quanqing, chairman of Harbin Huaxia Zhiqian Intellectual Property Operation Center; Jiang Xue, director of the Brand Operation Department of Zhejiang Intellectual Property Exchange Center; and Chen Chao, the general manager of Beijing Zhongzheng Lianke Intellectual Property Services Co., Ltd., regarding cooperation in further development of the JoveEye technology big-data platform. Thus, GTCOM and its partners will jointly promote the "last mile" implementation of artificial intelligence technology in enterprise operations and assist such users in the development of technology research so as to achieve mutual benefits and win-win results.
AI targeted at the entertainment industry to build a vertical ecological layout
GTCOM's entertainment-industry arm is an important component of the overall strategic layout. With the technological advantages and legacies in cross-language technology, big data and artificial intelligence, GTCOM has deeply explored the development potential of vertical industries and discovered a vast ocean in the world of culture and entertainment.
GTCOM Entertainment Deputy General Manager Ren Xiaojing introduced the new VC Short Video app at the conference. The product, which is based on artificial intelligence technology, lowers the production threshold to the effective use of video editing technology, allowing more users to create short videos through use of the short video language. Ms. Ren stated that VC Short Video provides high-quality, creative, intelligent computing templates, one-click video generation, a vast library of material and other functions to meet users' needs. More than simply a short video production tool, VC Short Video is also suitable for co-branded IP marketing because, on the new-media side, it can be used to promote the interactive fission of social-interaction videos. Anticipated uses include IP joint operations, promotion of quality content creation and production of short videos in fields covering animation, music, movies, people, art and online variety shows.
Based on the original intention of industrializing China's vast wealth of intangible cultural heritage, VC Short Video and Shanghai Qicheng Cultural Development Co., Ltd. officially entered a cooperative agreement at the conference. Zhou Xin stated that the company had initiated the Xihan Action at the end of 2012. This public welfare program is dedicated to bringing traditional culture to contemporary life in a variety of ways. Accordingly, the VC Short Video team worked with Xihan Action as well as Beijing embroidery artists to create a pattern embodying good blessings, thus promoting the traditional Chinese culture.
Yu Yang, of GTCOM Entertainment, made several viable suggestions in regard to AI short video marketing. "We can open up our own artificial intelligence technology and big-data capabilities to gather a large number of open-minded partners and achieve strategic cooperation with more brand-sensitive customers, so as to change digital marketing with AI and data and jointly build a new ecosystem of AI marketing," he said.
Zhang Wenguang, speaking at the conference, talked about the opportunity of combining brand and entertainment in the context of consumption upgrading, adding that with the development of the overall economy, being driven by data and the emergence of new scenarios, China's new media and entertainment would ascend to new heights with the help of AI.
AI and big data drive industry growth
Key guests conducted in-depth discussions on "the last mile implementation of AI and big data in enterprises" at the Frontier Forum. Ma Jietao, the vice president of Yonyou Group, said the future value of artificial intelligence will be reflected in the practical application of various scenarios. Wu Aiguo, the vice president of DHC, pointed out that the major hurdle in the development of big data is a lack of innovation, emphasizing the need to enhance government management innovation, data-based open innovation and application innovation. According to Li Nong, vice president of the 12301 National Smart Tourism Public Service Platform, China's tourism industry has undergone tremendous changes in the past three years and information technology has improved consistently. He expressed the hope that the Platform could cooperate with GTCOM on the publication of "China in the Eyes of Foreigners," thus objectively presenting the touristic order in Chinese scenic spots and regions in the form of data. Zhou Peng, CEO of IPRdaily, said that patent data including intellectual property big data and technology big data will serve as the main competitiveness of enterprises in the future. Shao Heling, Executive General Manager of Investment Banking Department of Guosen Securities Co., Ltd., said that technology products like JoveEye can analyze global research trends and build hype-cycle curves as powerful tools for investors.

Several guests from the entertainment field brainstormed on the subject of copyright value. Liu Yanan, CEO of CanVideo, said it is common to find that short videos are reprocessed and reused, adding that the protection of intellectual property rights has become an urgent need. Yu Shuai, the founder of She Video, asserted that internal creators should respect the copyright value, and that we hope more attention is paid to video makers and more protection is given to short-video copyrights. Gao Xiaoran, general manager of the Multimedia Publishing Department of Copyright Agency of China, said people in China have a weak understanding of copyright and should improve their awareness in that regard. Wen Huasheng, the Mainland China general manager of Rock Mobile, pointed out that our music is moving from input to output while our awareness of music copyright protection is gradually increasing, while, in contrast, copyright protection has a long way to go. Thus, AI and big data are required. Ni Chuchen, general manager of GTCOM Entertainment Technology (Qingdao) Co., Ltd., stressed that GTCOM Entertainment should rely on the parent company's powerful voice technology capability, artificial intelligence technology and big-data technology to promote the realization of copyright value with respect to short videos while boosting the development of the related industry.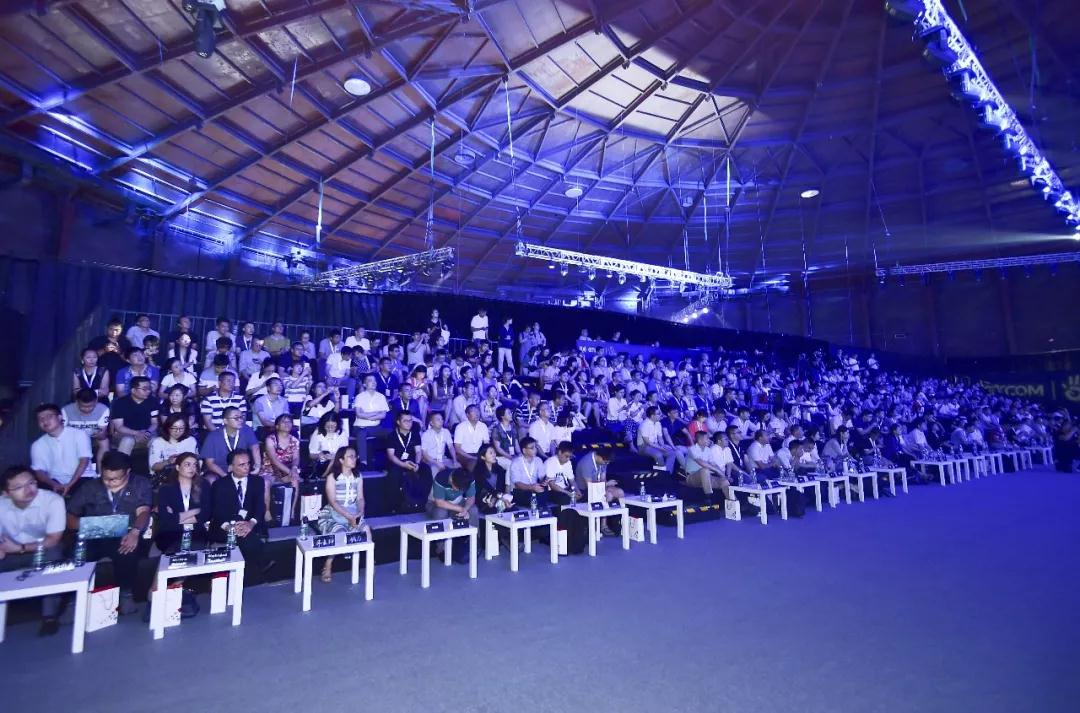 Site of the "Hi, Five" 2018 GTCOM Brand Strategy Conference

The impact of big data on global industries is increasing, and more companies will move toward the data-driven era. Accordingly, GTCOM has stayed true to its founding mission throughout its first five years. In the future, GTCOM will pursue progress in the fields of cross-language big data, language technology and artificial intelligence, doing so through technological innovation while actively exploring industry applications of big data. In a commercial age dominated by artificial intelligence and the Internet of Things, GTCOM will, during the next five years, strive to create products based on big data and artificial intelligence applications.