On July 27, 2021, the Corporate Net Zero Pathway Report Official Release & Multistakeholder High-level Roundtable was held in Beijing. More than 30 global corporate leaders, U.N. representatives and other high-level officials attended the event. Eric Yu, general manager of China Translation Corporation and deputy chairman of Global Tone Communication Technology Co., Ltd. ("GTCOM"), delivered speech as enterprise representative and met with Siddharth Chatterjee, U.N. resident coordinator in China, afterwards.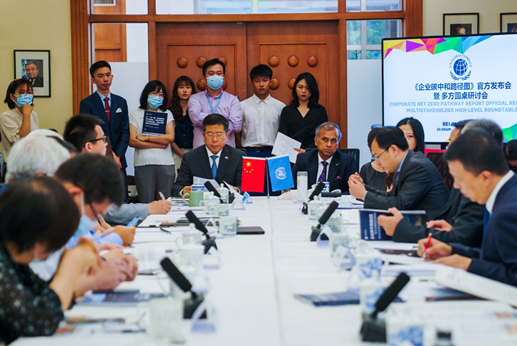 Siddharth Chatterjee, U.N. resident coordinator in China,and Ren Hongbin, vice chairman of the State-owned Assets Supervision and Administration Commission of the State Council (SASAC), attended the event
The event focused on the development of joint responses to multiple crises, including climate change, COVID-19, and deteriorating social and economic inequality, with a view to providing solutions for sustainable global recovery. Selwin Hart, special adviser to the secretary-general on climate action and assistant secretary-general of the U.N., and Sanda Ojiambo, executive director of the United Nations Global Compact (UNGC), gave welcome speeches via video. Siddharth Chatterjee, U.N. resident coordinator in China, and Ren Hongbin, vice chairman of the SASAC and board member of the UNGC, attended the event and delivered opening speeches. Ms. Liu Meng, head of the UNGC Asia Pacific Networks, presided over the event. During the event, the world's first heavyweight report launched by a U.N. organization as comprehensive guidance for enterprises to achieve carbon neutrality, titled Corporate Net Zero Pathway, was released.
In his speech, Mr. Chatterjee affirmed the vital role of enterprises in easing the global crises, noting that the efforts and leadership of enterprises could improve the world. In order to realize the social and economic changes urgently needed by the 2030 Agenda for Sustainable Development and the Paris Agreement, all enterprises must come together to propose and make deeper and faster responses in their respective fields. "Only through global cooperation can we recover from the pandemic, embark on the path of achieving the Sustainable Development Goals and mitigate the negative impacts of climate change."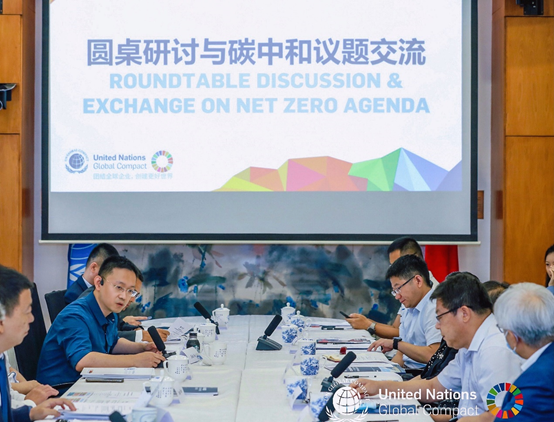 Eric Yu spoke at the event
Mr. Yu delved into the Corporate Net Zero Pathway report released by the UNGC and shared the company's practical exploration in the field during the event. According to Mr. Yu, enterprises including China Translation Corporation ("CTC"), a long-term language service provider for the U.N. in China, and GTCOM, a big-data and artificial intelligence enterprise under the CTC, need to share their own practical measures for reducing carbon emissions to help attain the common goal of peaking carbon emissions and achieving carbon neutrality at national and global levels. For the purpose of fulfilling its corporate social responsibility, the CTC has built a language communication bridge for the U.N. system and providing global enterprise users with a full range of leading big-data and scenario-based AI application solutions.
Mr. Yu stated that big data and artificial intelligence will be used in many scenarios such as industry chain optimization and carbon emission detection in order to better achieve the goals of 2030 and 2060. The development of digital economy is inseparable from global cooperation and the circulation and sharing of data resources. In the face of massive cross-language and multi-modal data, GTCOM continuously invested in the research and development of big-data and knowledge-graphing technologies, serving financial quantification and supervision, scientific research data analysis, smart city and many other scenarios. He added that GTCOM will reduce carbon emissions in its business and systems based on its digital capabilities while empowering external scenarios through measures such as optimized industry chain structure, the development of evaluative green indexes, and the facilitation of new carbon-emission trading markets in order to create a unique, carbon-neutral development model.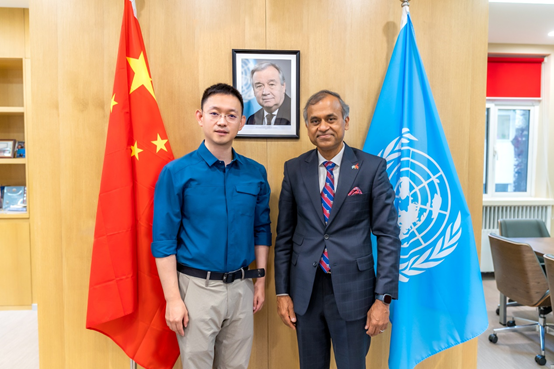 Eric Yu met with Siddharth Chatterjee


After the event, Mr. Yu met with Mr. Chatterjee. They exchanged opinions and views on carbon neutrality empowerment by big data and artificial intelligence, language technologies, green finance, industry-chain optimization and carbon neutrality indexes. Mr. Yu stated that CTC and GTCOM will comprehensively deepen the strategic cooperation with U.N. representative offices in China.
As a long-term language service partner of the UNGC in China, CTC also provided conference translation services for Mr. Chatterjee. Meanwhile, GTCOM offered language-technology support based on its machine-translation hardware product, LanguageBox.
Source: UNGC and CTC