The "Lanxiang Cup" Ninth National Spinning Technology Innovation Seminar in 2021 was held in Dezhou, Shandong, from April 8th to 10th, 2021. The seminar saw the gathering of spinning enterprises from around the world, who gathered to introduce new products, technologies and models to the industry. Global Tone Communication Technology (Qingdao) Co., Ltd. unveiled its AthenaPlat, an innovative contribution to intelligent manufacturing.
The system of AthenaPlatIOT data-collection and edge-computing presentation
AthenaPlat drew eager attention due to its profound application of leading technologies--including IOT, big data and AI--as the means to help textile enterprises reduce costs, improve their efficiency and accomplish digital transition. As a result, many well-known enterprises consulted GTCOM (Qingdao) in detail about AthenaPlat. Additionally, they discussed the roadmap and scenario application of some pioneering technologies such as big data, IOT, intelligent manufacturing and textile technologies.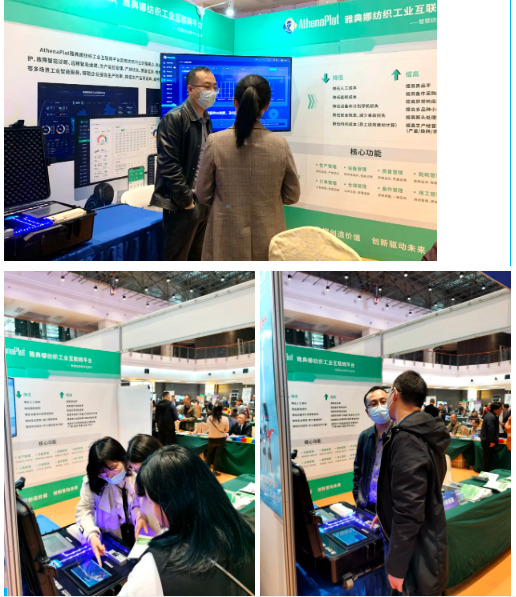 GTCOM has been actively exploring the integration and application of big data and AI in various vertical sectors for years. With the focus on the intensive pain points of the textile industry and the application scenarios of high-value business, AthenaPlat strives to provide multiple-scenario industrial intelligence services such as predictive maintenance, intelligent fault diagnosis, remote intelligent operation and maintenance, production monitoring management, production-line optimization, quality monitoring, performance management, order management, online purchase of spare parts and precision marketing. The enterprises can benefit from the services and achieve intelligent transition with improved production efficiency, reduced production and operation cost, increased added value of products and new business-service models. Accordingly, GTCOM has established strategic cooperative partnerships in order to provide comprehensive, professional digital solutions to the whole industrial process for many leading enterprises in the industry.