On December 14, 2020, Gartner, an international authoritative research organization, released the 2020 Market Guide for AI-Enabled Translation Services (hereinafter referred to as the "Guide"). The report is an authoritative survey of the industry, having been produced by Gartner's multinational team of experts after rigorous study encompassing interviews with candidate enterprises, user and partner research, internal appraisal and cross-analysis with third-party data. In the Market Guide, one Chinese company--Global Tone Communication Technology Co., Ltd. (GTCOM)--is cited as having fully ecological AI-enabled translation services.
Gartner defines AI-enabled translation services as being able to leverage AI methods to improve the speed, quality and cost of the language translation workflows. The AI-enabled service with the most profound effect is neural machine translation (NMT). Accordingly, Gartner's report made predictions concerning the development of AI-enabled translation services:
By 2025, 10% of global enterprises will use an enterprise translation hub type architecture integrated with IT operations.
By 2025, enterprises that do not develop a translation data strategy will fail to optimize their translation models.
By 2025, 75% of the work of translators will shift from being focused on creating translations to reviewing and editing targeted sections that were machine translated.
By 2025, 50% of enterprises will use hour and quality payment rather than a per-word basis for their translation.
Based on the above analysis, Gartner selected more than ten world-class enterprises--including Google, Baidu, SDL and GTCOM--as representative service vendors for inclusion in the Market Guide. Currently, GTCOM is the only vendor to offer fully ecological services encompassing machine translation, document translation and enterprise-level translation.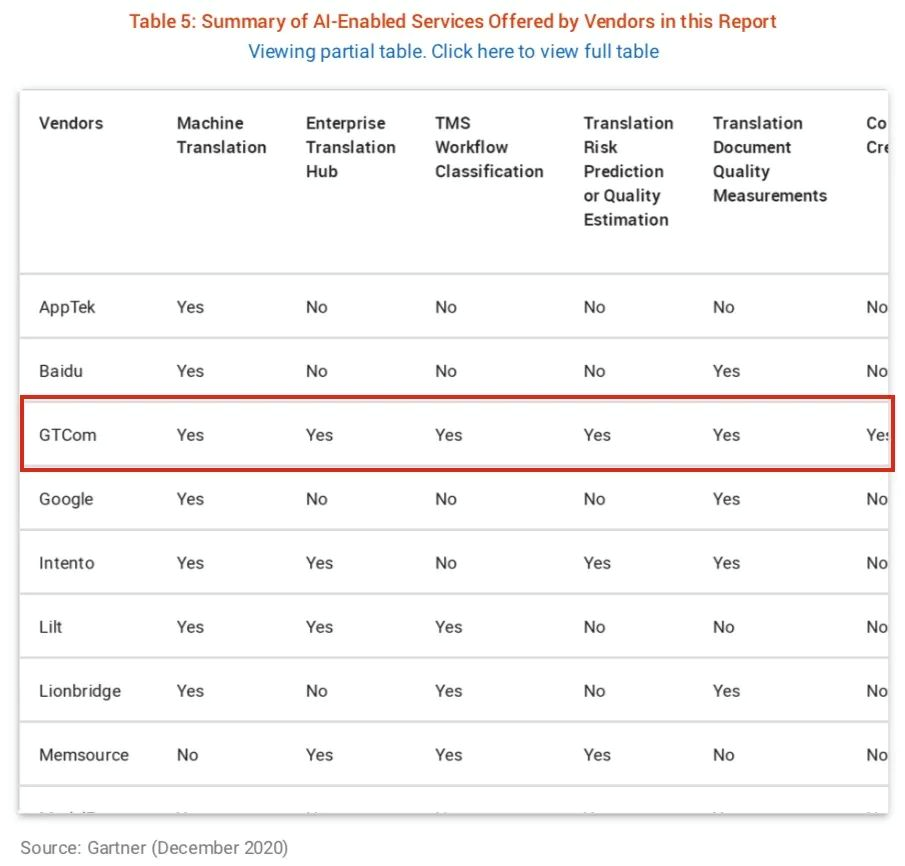 Additionally, Gartner analyzed the representative vendors in terms of human translator services, TMS functional support, professional CAT tools support, vertical market services and other factors. The results were consistently indicative of the fact that GTCOM possesses all of those capabilities.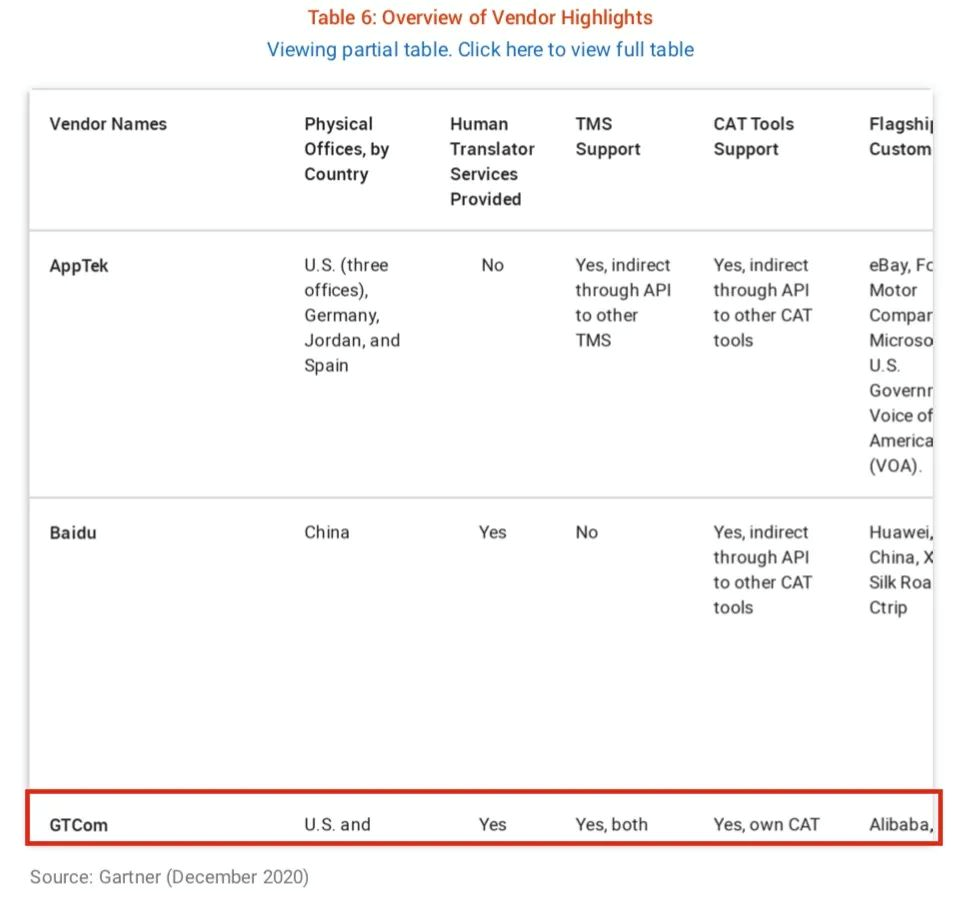 The research for the Market Guide analyzed and assessed GTCOM's business presence in the field of AI-enabled translation. It pointed out that GTCOM evolved from being a translation service provider to a predominantly fintech and research data analytical company. GTCOM has its own neural machine translation (NMT) which supports more than 50 languages. The NMT can be deployed in flexible ways to satisfy different application scenarios. GTCOM provides customized NMT engines for many domains including law, finance, science and technology, medicine, etc. Based on its vertical NMT, GTCOM built up the ecosystem of applications.
YeeKit is a fully cloud-based translation services platform which includes a series of NMT tools such as a webpage translation plugin, YeeKit CAT, a computer-aided translation tool and YeeCaption, a live and recorded video translation system. GTCOM has its own simultaneous translation device. The "LanguageBox" device is available and targeted at commercial conferences, institutional/academic seminars and international events, with multiple language translations-in-one as the primary use case. Additionally, GTCOM also provides "JoveTrans" which are AI powered simultaneous translation earbuds for consumers.
Since 2015, the company's R&D focus is primarily on NLP and semantic computing, so as to build industrial knowledge graphs, algorithm models and visualization platforms for fintech, consulting and other sectors. GTCOM claims its strengths are in the depth and quality of its in-domain models for fintech-specific translations.
The Market Guide also pointed out that in order to serve the scale of enterprise and government translation requirements, and to address data security concerns, GTCOM has a hardware solution called "MerCube" that builds in NMT engines and a series of applications and allows all source texts and translations to be stored locally. This guarantees users' data security. With YeeKit CAT as a translation project management system, GTCOM is also able to provide language service management of translators, terminologies, clients and projects for its clients.
The last section of the Market Guide included Gartner's statement regarding the principles of objectivity and impartiality that underlie the report:
The research for this document included over 10 in-depth interviews with industry subject matter experts. Additionally, hour-long discussions were conducted with over 5 executives at Fortune 50 enterprises responsible for globalization and localization strategy. Research also included hour long briefings with each of the vendors reviewed in this report who also completed an extensive questionnaire. Evidence also includes multiple inquiries with Gartner clients as well as briefings with translation services vendors not included in the report.
Edited for Gartner, 2020 Market Guide for AI-Enabled Translation Services.