As the application of industrial Internet technology proceeds, intelligent transformation has become a consensus among industrial enterprises. However, during the building of smart factories, the question of how to help workers track industrial production procedures in real time while monitoring the performance of devices and ensuring efficient operation has come to the fore. Accordingly, on November 18, 2020, GTCOM Qingdao launched self-developed industrial smart watches designed to empower intelligent manufacturing. With precise positioning down to the centimeter, more than 70 independently innovative AI algorithms, comprehensive and agile industrial customization, convenient real-time multi-terminal interaction and other capabilities, the product supports scenario-based applications in diverse industries such as textiles, petrochemical industry, environmental protection and machining.
GTCOM Industrial Smart Watches
Cost reduction, quality improvement and efficiency enhancement are objectives pursued by modern industrial enterprises. However, amid the wave of industrial revolution, industrial enterprises still encounter pain points such as late identification of equipment failures, high defect rates on production lines and sluggish early warnings in regard to inventories.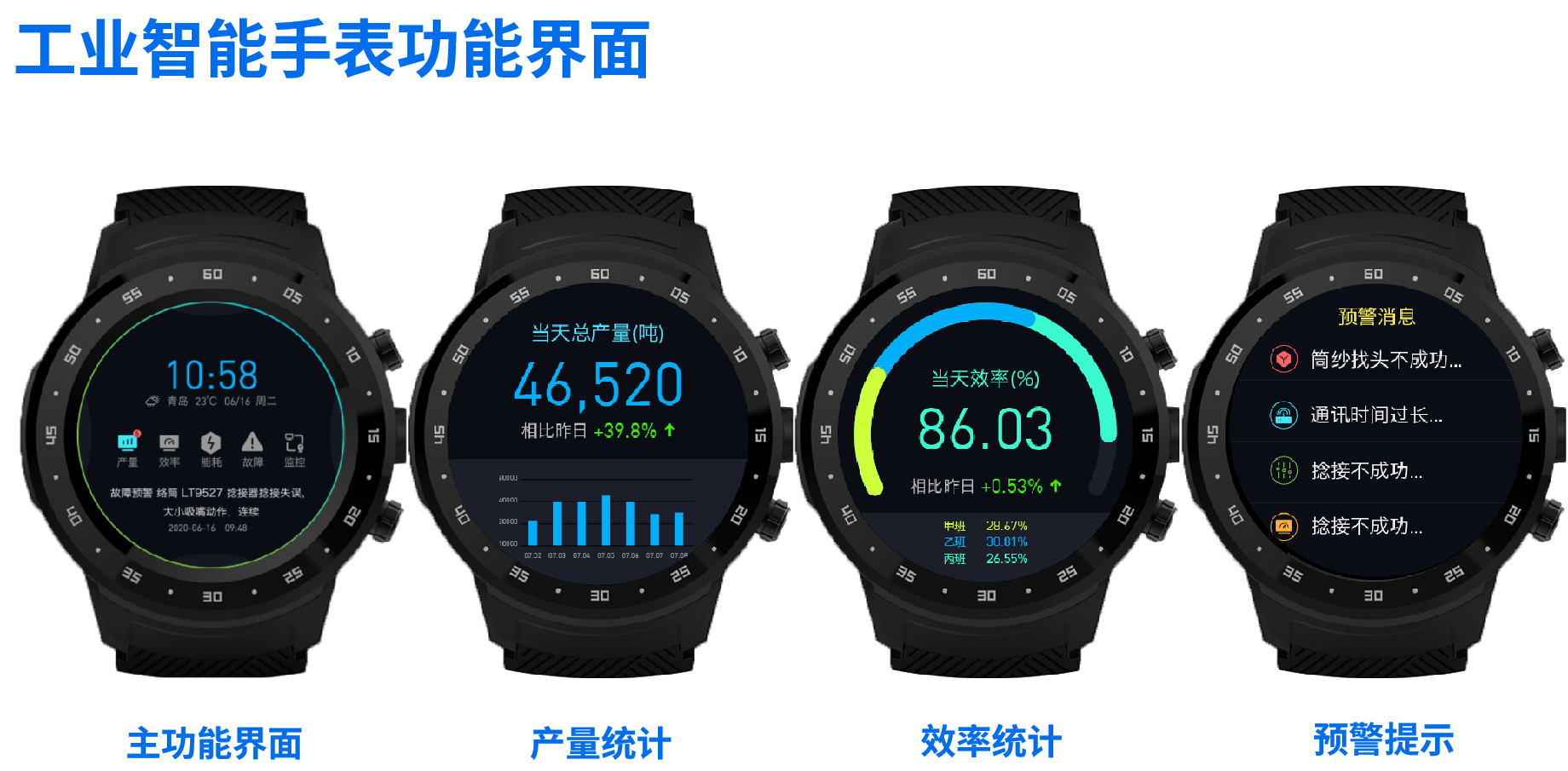 The industrial smart watch is specifically designed for the industrial environment. Equipped with centimeter-level high-precision sensors and embedded with more than 70 self-developed core algorithms, it provides smart solutions for multiple scenarios, including fault prompts, early warnings, safety positioning, quality alarms, equipment maintenance, environmental monitoring and attendance check-in. Thus, GTCOM's smart watches support real-time interaction with large displays, mobile terminals and PC terminals. Functions can be customized flexibly based on the industry, type of customer and requirement for language version, which ensures more convenient and efficient man-machine interaction and whole-procedure management in today's smart factory environment.
Four major industries are empowered with diverse scenario-based applications
Thanks to relentless effort in smart manufacturing, GTCOM has accumulated abundant experience in the design and operation of customized products for the industrial Internet. For example, AthenaPlat deeply integrates big data, IoT and AI as it focuses on business scenarios with major pain points and high value. It has been applied to major sectors such as textiles, the petrochemical industry, environmental protection, machining and rail transit.
Additionally, GTCOM's industrial smart watches tackle pain points in wide-ranging scenarios. In the textile industry, workers need to frequently ride bicycles to inspect equipment, while the real-time early fault warning function enables workers to rapidly identify the malfunctioning equipment and adjust the frequency of inspection. In the realm of environmental protection, with the real-time early-warning function of safety positioning, workers can identify dangerous areas within a high-risk operating zone. In the machining industry, where high precision is essential, GTCOM smart watches can alarm workers to check the wear status of core parts, thus facilitating timely maintenance of parts and reducing the possibility of breakdown.
Explore the needs for technological innovations and make sustained efforts to Industrial Internet applications
GTCOM, at the launch site, signed strategic cooperation agreements with the School of Automation and Electrical Engineering of Qingdao University of Science and Technology, and Qingdao Tekesi Mechanical & Electrical Equipment Co., Ltd. to explore the need for technological innovation in application scenarios throughout the Industrial Internet as they cooperate in the research, development and application of new technologies.
GTCOM Qingdao signed an agreement with the School of Automation and Electrical Engineering of Qingdao University of Science and Technology
GTCOM Qingdao signed an agreement with Qingdao Tekesi Mechanical & Electrical Equipment Co., Ltd.
Additionally, the delegates had an in-depth discussion with GTCOM's smart manufacturing team in regard to topics such as how to develop example smart-watch customers, how to refine product-application scenarios and how to differentiate products through marketing.
Discussion and communication
The approaching wave of the Industrial Internet has brought an opportunity for the manufacturing to undergo comprehensive reformation. The launch of industrial smart watches not only enriches the industrial smart hardware products of GTCOM Qingdao but also enhances the service scenarios of AthenaPlat. Thus, the company will continue its efforts in regard to the Industrial Internet and AI while expanding industrial applications so as to help accelerate China's development of the Industrial Internet and encourage forward momentum.