On November 23, 2019, the annual meeting of Translators Association of Shandong Province and the Summit Forum on Language Talent Echelon Construction in the Pilot Free Trade Zone was held in Jinan. Nearly 100 representatives from the government, colleges and universities, translation associations and translation enterprises gathered to discuss topics such as the pilot free trade zone and language services, going global of Chinese culture and translation education, artificial intelligence and development of translation industry, and current situation and development of language service industry. As a member of Translators Associationof China,Global Tone Communication Technology (Qingdao) Co., Ltd.(GTCOM Qingdao)was invited to the meeting, andwas elected as Vice President Unit of Translators Association of Shandong Province atthe councilmeetingin 2019. LanguageBox, a product forsmart conference solution, independently developed by the company, provided language technology services for the opening ceremony of the meeting, presenting innovative ideas and exploration results in the field of language services in the new wave of science and technology.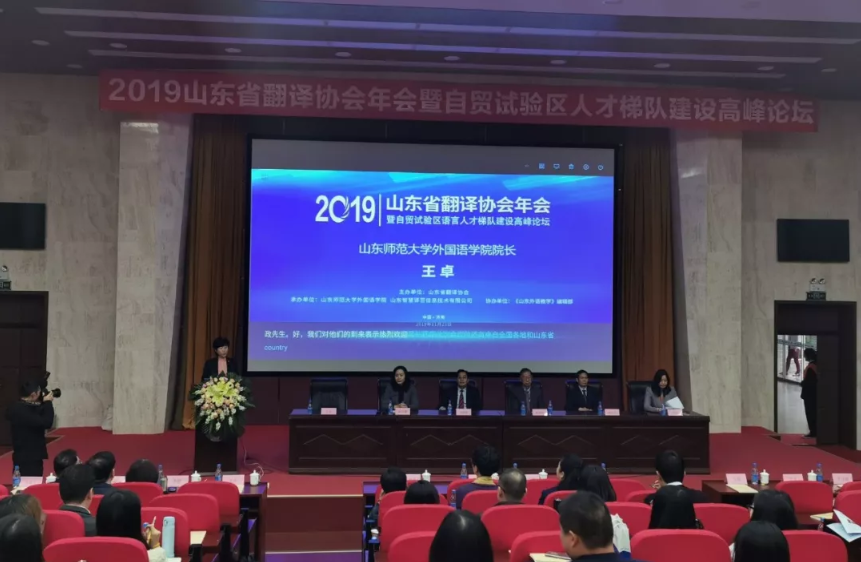 Focus on advanced AI technology and innovate language service mode
The increasingly frequent communication and cooperation and population flow around the world have broughta sharp increase in the demand for diversified language services. Meanwhile, the increasingly mature artificial intelligence technology also provides more possibilities for the smart, customizedand Internet-based development of language services.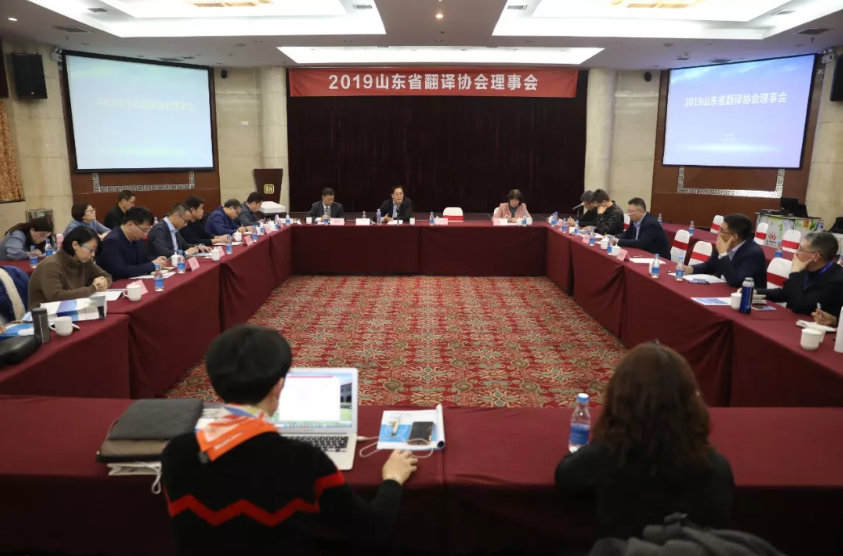 The council meeting of Translators Association of Shandong Province held on November 22, 2019
Relying on the accumulated high-quality language service resources of the first translation company established after the founding of PRC, GTCOM Qingdaohas, since its establishment, combined artificial intelligence technologies such as speech recognition, machine translation, deep learningand semantic analysis with traditional language services,to create human-centered language technology solutionsintegrating smart translation hardware, smart multilingual service platform, conference interpretation and translation services, etc. It has successfully provided a full range of language services for major events such as the SCO Qingdao Summit, the SCO Film Festival, Global Health Forumof Boao Forum for Asia, and Qingdao MultinationalsSummit.
At present, the machine translation system of GTCOM Qingdaosupportsmore than 50 languages and more than 2500 language directions, covering professional fields such as finance and science and technology. Based on the system, the company has developed intelligent hardware products—LanguageBox smart meeting solution and JoveTrans Mixsmart simultaneous interpreting earphones—which are targeted at enterprise and individual usersrespectively.Among the two products, LanguageBox has four functionsincludinghigh-quality AI simultaneous interpreting, precise multilingual transcription, intelligent shorthand and mobile conference room, and can be applied to many occasions such as conference forums, business meetings, andeducation;JoveTrans Mixsupports two-way simultaneous interpreting in30 languages, and has the general functions of listening to music and making phone calls of true wireless earphones, making it very handy for individual users going abroadfor travel or businessnegotiation.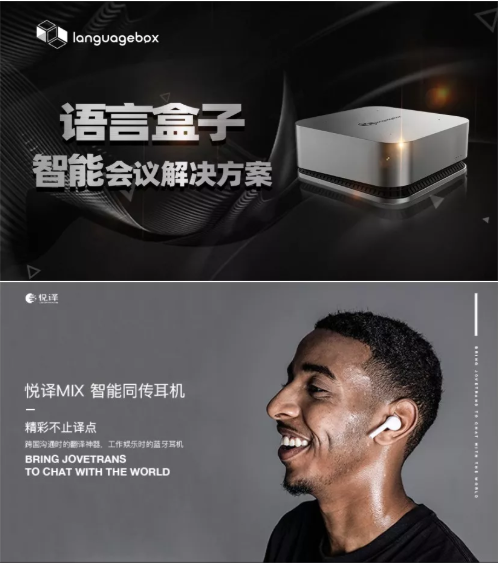 LanguageBox smart meeting solution
JoveTrans Mix smart simultaneous interpreting earphones
Extend the ecology of language science and technology and lay out the application in vertical fields
With the introduction of the Master Plan of China (Shandong) Pilot Free Trade Zoneby the State Council,Shandong Province willfurther improve its opening-up level. Not only does language service capability directly affectthe implementation of theopening-up policy, but the scenario applications of language technology in different fields are more likely to change the integration mode and efficiency of high-quality resources at home and abroad.Wang Xiaodong, Vice President of Global Tone Communication Technology Co., Ltd. (GTCOM) and General Manager of GTCOM Qingdao, shared the company's frontier exploration and practice in vertical fields such as finance and science and technology based on big data, artificial intelligence and language technology. He believes that language technology can improve production efficiency and quality through human-machine integration and interaction, form more diversified service and cross-language solutions, and provide tools for foreign language teaching and theoretical research.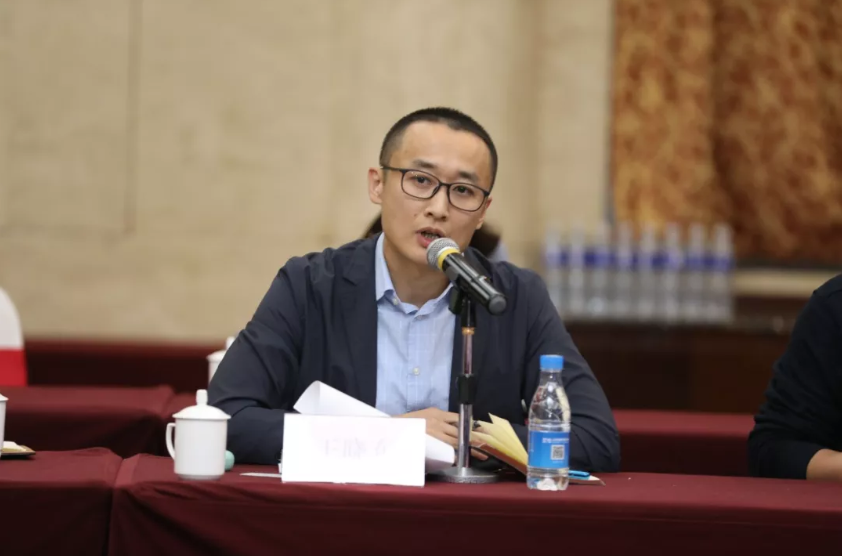 Wang Xiaodong, Vice President of GTCOM and General Manager of GTCOM Qingdao
is elected as Vice President of Translators Association of Shandong Province
and delivers a speech at the councilmeeting
According to Wang Xiaodong, GTCOM Qingdaouses natural language processing and semantic computing technology to mine and analyze the global massive data, and constructs the industry knowledge map, algorithm model and visual analysis platform. At present, the financial science and technology and sci-tech big data products developed and launched by the company including JoveBird alternative data analysis platform, JoveEye sci-techbig data platform, and JoveEye Discovery global sci-techdiscovery and value evaluation systemcan analyze global business information, financial market, scientific innovation resources and industrial policies, so as to help domestic and foreign enterprises make better global market decisions.
The rapid penetration of new technologies such as big data and artificial intelligence in the field of language services has not only brought about a good change in the efficiency of the industry itself, but also revealed to people the powerful capabilities of language technology in changing production efficiency, scientific innovation and social life. Going forward,GTCOM Qingdao will further consolidate its advantages in cross-language big data and artificial intelligence technology, explore more scenario-based applications in more fields, enrich the ecology of language science and technology, contribute to the replacement of old growth driverswith new onesand the construction of China (Shandong) Pilot Free Trade Zone, and empower the language service industry to make breakthroughsand realize upgrading.