GTCOM and WeBank signed a strategic cooperation agreement in Shenzhen lately, starting cooperation in the integration and application of alternative data and AI technology. The two sides will explore the field of intelligent asset-management, such as market-psychology analysis, investment signal generation and sustainable investment, and other innovative fintech businesses.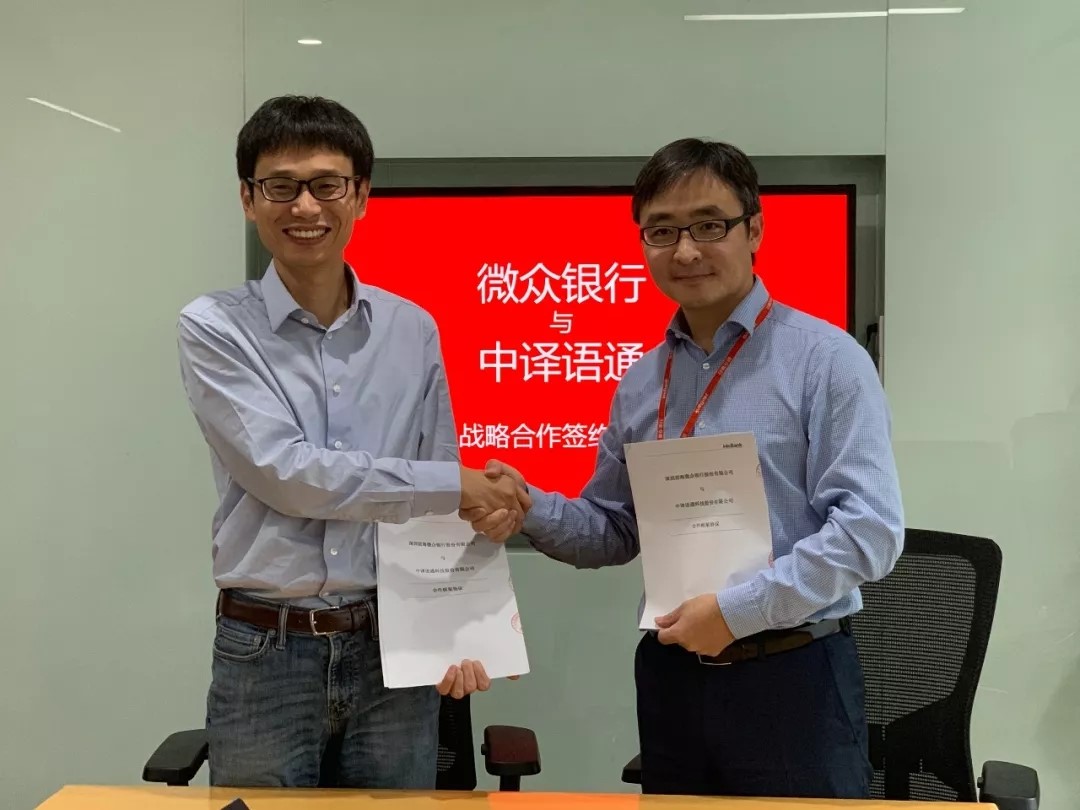 Allen Yan, the general manager of GTCOM-US (right) signed a strategic cooperation agreement with Wu Haishan, the deputy general manager of WeBank's Artificial Intelligence Department.
Alternative data is a new type of data that is distinct from that which is traditionally disclosed by exchanges and companies. It is valuable information that helps investors with investment decisions, including market-sentiment data, satellite image data and IoT data. Alternative data is characterized by broad industry coverage and a comprehensive, objective, real-time data dimension, which can provide a timelier, more objective, more comprehensive enterprise evaluation basis for investment decisions.

Global Tone Communication Technology Co., Ltd. (GTCOM) is a global leading fintech and research data analytical company. It has continued to explore the big-data area, and accumulated vast data resources, which collectively comprise market-psychology data, Internet open data, technological data and financial data. These data resources have helped identify many potential investment opportunities and facilitated innovative applications of alternative data in the financial quantitative area. Through advanced natural-language processing and semantics computing technology, GTCOM mines and analyses an enormous amount of data globally while constructing industry knowledge graphs, algorithm models and visualized analysis platforms, all of which is applied to areas such as finance, technology and industry consulting so as to provide leading big-data and AI scenario-based solutions for enterprise users around the world.
WeBank's AI team has set up China's first new-generation intelligent asset-management platform based on AI technology and alternative data, in the process demonstrating its value in financial business scenarios such as quantitative fundamental analysis (real-estate business indexes, vehicle traffic monitoring, etc.), macroeconomic monitoring (e.g., road-network density, regional change monitoring, etc.), agricultural insurance (flood loss assessment, assessment of loss due to plant diseases and insect pests), and bulk commodity tracking (monitoring of crude oil reserves, monitoring of crop areas). Additionally, it has created the "AI + ESG investment platform" so as to use AI technology to identify the investment risks and opportunities in unstructured data based on the rating framework of ESG key indicators, thereby helping investors track and compare the companies' sustainable development capacity and more clearly reveal the risks and opportunities.
The two parties, having signed the strategic cooperation agreement, will take "AI + alternative data" as the entry point, combine WeBank's advantages in AI technology and GTCOM's alternative data capacity--such as market-psychology data--to create an "AI + alternative data" investment-research solution with core features such as market-psychology analysis, investment signal generation and sustainable investment.
In the future, GTCOM and WeBank will further explore cooperation on other strategic levels. As an important participant in the field of artificial intelligence, WeBank will continue its role as a "facilitator," work and grow with its partners, including GTCOM, continue to explore the infrastructure capacity and solutions of financial AI, persevere in openness and co-creation, and develop more products, features and solutions in association with like-minded partners.