The Summit on Translation in China: 70 Years of Development was held in Beijing on November 10, 2019. The conference was jointly chaired by Huang Youyi, executive vice president of the Translators Association of China (TAC), and Jiang Yonggang, executive deputy secretary-general of the TAC, and attended by experts, scholars, and industry leaders from government departments, the language-services industry, the technology sector and the publishing field. It was a feast of innovative ideas for all of the guests present. GTCOM CEO Eric Yu, as a guest speaker, shared his experience and thoughts about the development of the language-services industry with industry celebrities such as Li Mu, head of the Natural Language Technology Center of Tencent's Intelligent Platform Department, and Qin Ying, director of the Translation Services Center of Huawei Technologies Co., Ltd. Additionally, he gave a speech titled "HAI, Language Technology 4.0."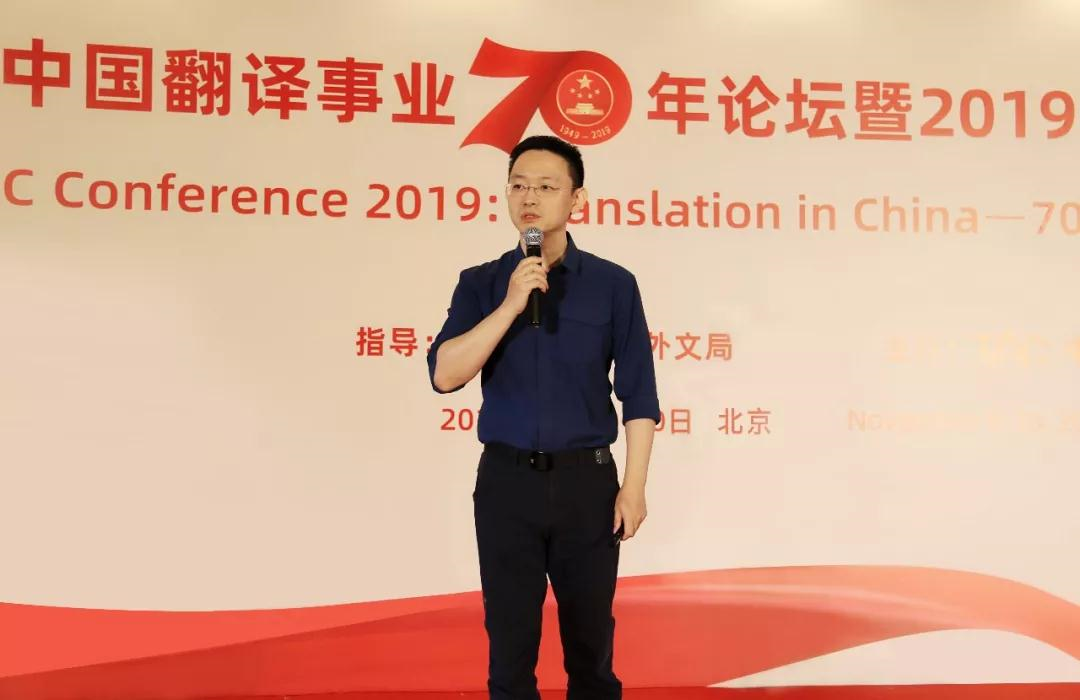 ▲GTCOM CEO Eric Yu
The Golden Age of Language Technology Service
Mr. Yu started his speech by introducing his ideas and views about the deep integration of new technologies and the language-services industry from three aspects, namely the key development stage of new-generation information technology, the evolutionary process of language technology and the golden age of language-technology development. Mr. Yu said that products represented by CAT software ushered in language-technology era 1.0; the O2O service model marked the beginning of language-technology era 2.0; with the integration of machine translation and CAT, language services entered era 3.0. Moreover, people-oriented HAI (Human-Centered Artificial Intelligence) has brought profound changes in the ecology of language services, indicating that language technology has entered era 4.0.
In the process of reconstructing the global language-services ecology with human-centered AI, GTCOM has creatively built a language-technology ecology to serve global users based on its frontier explorations AI and big data and high-quality corpus data amassed during the course of 46 years. Mr. Yu said that GTCOM made arrangements for SMT (statistical machine translation) and launched web-page translation and subtitle translation in 2014, commenced the exploration of NMT (neural machine translation) in 2016, and released MerCube (enterprise-level machine translation), LanguageBox (smart conference solution), JoveTrans Mix (intelligent simultaneous interpretation earphones), and other software and hardware products in 2018 and 2019. GTCOM has opened up a path of innovation-driven development for the language-services industry to facilitate industry transformation, upgrading and intelligent evolution.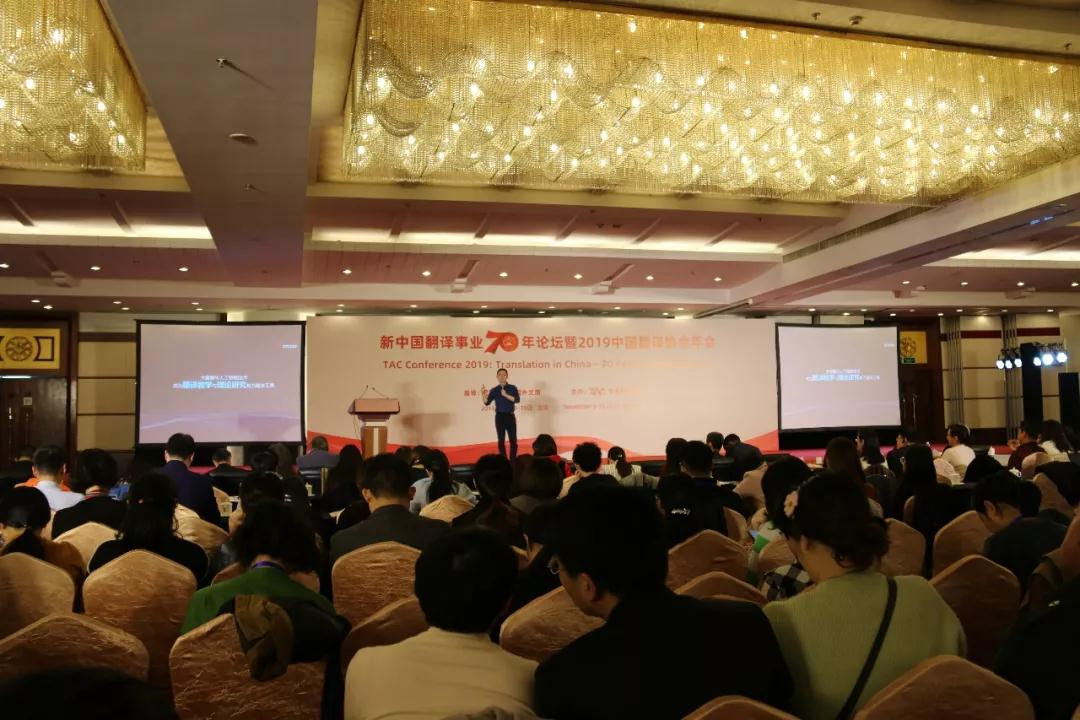 ▲On the meeting site
Human-centered Artificial Intelligence
Reconstruct Global Language Technology Ecology
Mr. Yu said the essential aim of HAI is to make the interaction between people and machines better. In his speech, he shared his ideas and views about the HAI-based reconstruction of the language-technology ecology from six aspects.
First, the deeper human-machine integration and interaction will enhance efficiency and quality by more than 60%. Take GTCOM as an example. Over the past five years, the number of translation tasks completed by the company's translation platform has increased five times, and manual work efficiency has increased by 50%. With further technological development, the goal of a 60% increase in manual work efficiency will soon be achieved.
Second, big data and AI technologies have become effective tools for translation teaching and studies. Many key colleges and universities in China and elsewhere have set up AI and big-data majors. The high-quality data and analysis technology of GTCOM are invaluable for translation teaching and studies.
Third, machine translation (MT) and computer-aided translation (CAT) tools should not be mastered merely as a translation skill, because ability development based on such tools is more important. Today, CAT tools are easy to learn and use, so, greater attention should be paid to how to develop comprehensive application ability.
Fourth, the demand for cross-language processing of voice and video information is surging in the 5G era. In the 5G era, voice and video data are growing fast. The application of cross-language information processing and natural-language processing technologies in the language-services industry will show an upward trend.
Fifth, both the performance and quality of machine translation have been further improved, and the processing data scale follows the "new Moore's law." According to the "new Moore's law," the new information volume in the world every 18 months is the sum of all the information in the history of computers. In the future, MT application scenarios will continue to grow, and the speed of MT performance and quality improvement will be far beyond our imagination.
Sixth, the intelligent hardware interaction experience will become more natural, and AI chips for MT will be introduced. The growth in market carriers, capacity and user groups will facilitate the availability of AI chips for MT.
"GTCOM is a company built on the genetics of linguistics. We're striving to make new breakthroughs in AI, big-data technology and language technology to provide greater support for translation practices, language teaching and translation studies." The launch of commercial 5G operations will open the door to a new world where all things are connected and all things are intelligent. Accordingly, GTCOM will grasp the general development trend of the industry and work to make breakthroughs in language technology to provide comprehensive technical support and services such as financial and scientific research-data analysis for users throughout the world.