The 23rd China International Software Expo (hereinafter referred to as the "CISE 2019"), co-sponsored by the Ministry of Industry and Information Technology and the Beijing Municipal People's Government, was held at the Beijing Exhibition Center from June 28 to 30, 2019. Miao Wei, the party group secretary and minister of the Ministry of Industry and Information Technology, and Chen Jining, the deputy secretary and mayor of Beijing Municipal Party Committee, delivered speeches on behalf of the organizers at the first forum. Industry leaders and technology enterprises from around the world gathered to discuss and exhibit new technologies, new products, new models and new economies in the global software field under the theme of "Integrating the Network World and Driving the Digital Future." Global Tone Communication Technology Co., Ltd. (GTCOM) presented its AI big-data software and hardware black technologies at the expo. MerCube MT won the Excellent Product Award, and LanguageBox provided high-quality machine translation, smart note-taking and other AI language technology solutions for the expo.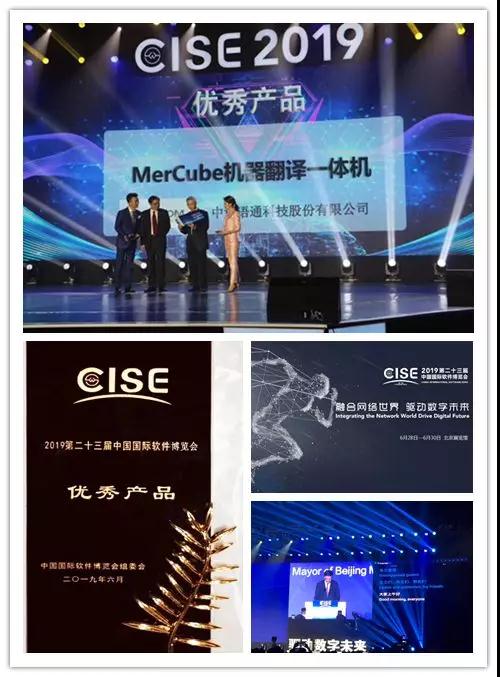 GTCOM attends the CISE 2019
MerCube MT wins the Excellent Product Award
LanguageBox offers machine-translation services
MerCube MT
wins the Excellent Product Award
At the Software Awards Ceremony, eight products, including MerCube MT, Baidu Smart Cloud Customer Service, Ant Risk Brain, Tianyi Account Code-Free Smart Authentication System, and Operation Control System of Hualong No. 1 Nuclear Power Unit (First Overseas Reactor), won the Excellent Product Award. Leaders of the Department of Informatization and Software Services of the Ministry of Industry and Information Technology as well as academicians of the Chinese Academy of Sciences announced the winners and awarded the prizes.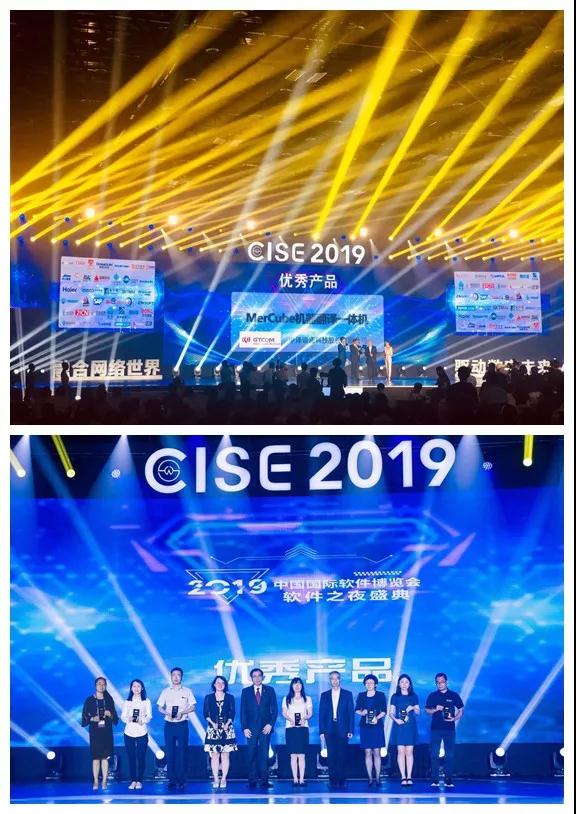 Awarding ceremony
MerCube is a machine-translation hardware product developed by GTCOM driven by the market for enterprise users. It completely revolutionizes the model of machine-translation services, leading the new direction of AI application in enterprises. A MerCube MT G4 can process up to 8,000 words per second, and an MT G8 can process 16,000 words per second. Given that impressive translation speed, it can help enterprises quickly respond to the huge amount of information translation needs, which greatly saves manpower and financial expenditures. At the software-application level, MerCube can seamlessly interface with software such as webpage translation, subtitle translation, image translation, and video translation. The YeeKit webpage translation plug-in addresses the page-side translation needs; the document translation system meets the batch document translation needs; YeeCaption and the video-analysis tool satisfy the needs of automatic translation of audio and video as well as information extraction and analysis; and PhotoTrans solves the image translation needs. Meanwhile, MerCube has unique advantages in information security. It can provide exclusive private deployment services, in which the system handles local processing and storage in a precise and secure environment and performs processing and storage locally, answering the need for data security in cross-language information processing. Additionally, MerCube offers language-specific and/or field-specific proprietary machine-translation engine services.


MerCube MT
Significantly, MerCube MT is only a part of the "AI Cube." MerCube can also integrate advanced AI algorithms and applications such as natural language processing, knowledge graphing, semantic computing and video analysis, as it boasts cross-media and cross-language information deconstruction capabilities with which to give the user an all-in-one AI solution.
AI Smart Conference Solution
More efficient communication
LanguageBox provided smart conference solutions for more than 10 events during the three-day expo, including "Digital Future and Software Ecosystem," "Industrial Connectivity and Cloud Manufacturing," "Leading the Smart+ Era as a Bellwether" and "Software Awards Ceremony." In the process, it made international conference communication more efficient and intelligent.
LanguageBox, which integrates AI simultaneous interpretation, smart note-taking and mobile conferencing, not only helped the guests to quickly capture and understand the core views and contents of speakers but also improved the working efficiency of data processing staff. According to an employee of GTCOM, LanguageBox supports real-time translation in 38 languages, including Chinese, English, Japanese, German, Portuguese, French and Korean, in speech, multilingual, dialogue and subtitle modes. It has industry leading strength in both accuracy and fluency. Smart note-taking has a unique advantage in improving productivity. No matter it is a long speech or a several-hour multilingual meeting, audio and text files can be generated intelligently, and file export is supported. Moreover, mobile conference function makes remote conversation and communication easier. By scanning the QR code of a meeting, people who aren't present can receive the content of the meeting in real time through mobile phones and other smart devices.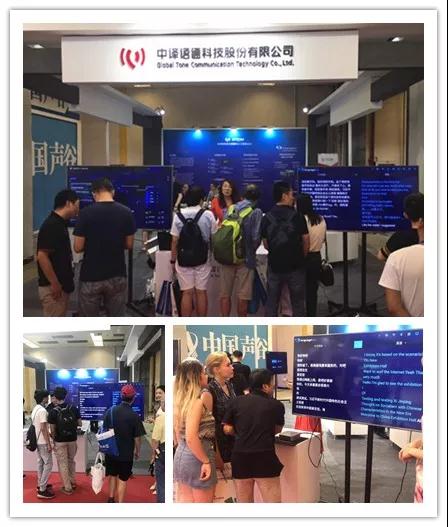 GTCOM's booth
The AI big data products such as the JoveMind Knowledge Graph Building and Analysis Platform, the DataMap4.0 Data Visualized Analysis Platform, the JoveBird Financial Big Data platform, and LanguageBox--all of which were displayed at the GTCOM booth--allowed the guests to experience the changes made possible by the technology of AI big data.
Software is the soul of new-generation information technology. It's the key to new levels of capability in manufacturing and network operations. As an industry that's strategic, fundamental and pioneering, software has brought forth the Internet, big data, cloud computing, AI and other fields. It's the accelerator of innovative development and an important guarantee for promoting high-quality socioeconomic development. As a technology company deeply engaged in big data and AI, GTCOM will continue to explore frontier technologies driven by innovation, provide one-stop AI solutions for global users and give more enterprises access to the express train of progress.