On July 25, 2019 Qingdao International Software Convergence & Innovation Expo(hereinafter referred to as "Qingdao SoftwareExpo") opened in Qingdao International Convention Center, bringing together cutting-edge technologies and products covering smart city, blockchain, virtual reality and Internet of Things. More than 300 famous domestic and foreign enterprises, including Microsoft, Oracle, Haier and Huawei, participated in the expo. Global Tone Communication Technology (Qingdao) Co., Ltd. (GTCOM Qingdao) was presentatthe theme exhibition areaof Demonstration of the Construction of Famous Characteristic Software City in China, many of its integrated big data solutions and latest language technology products attractingwide attention and active experiences.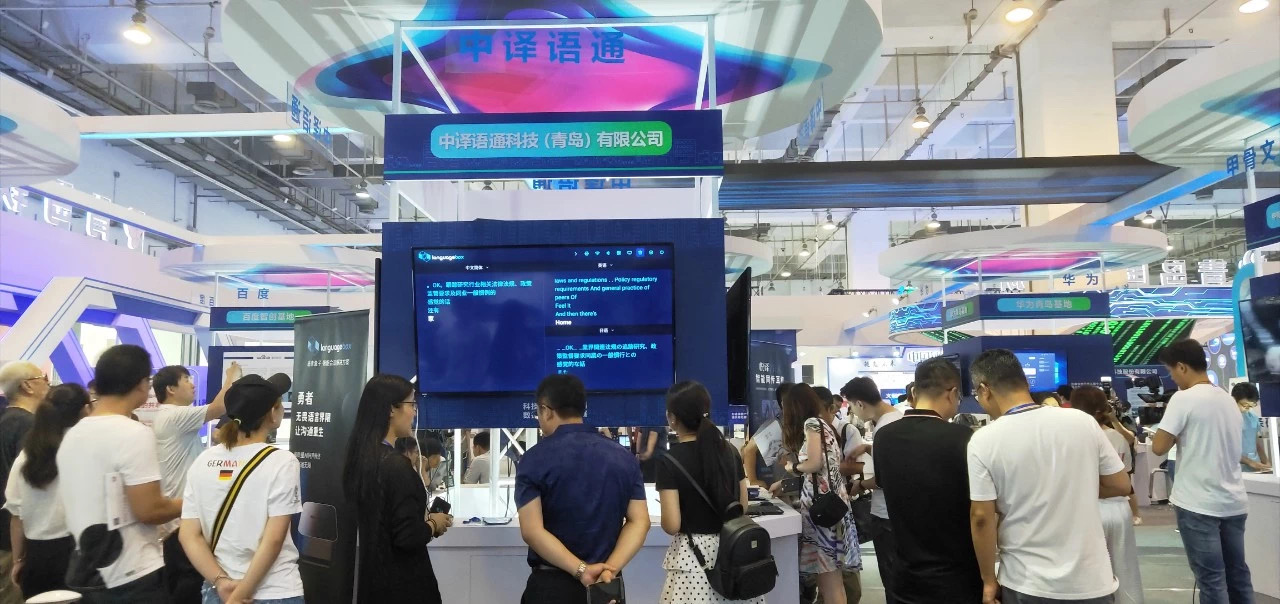 At the expo, Wang Xinzhe, Chief Economist of the Ministry of Industry and Information Technology, Liu Shengzhen, Deputy Director of the Standing Committee of Qingdao Municipal People's Congress and member of the Leading Party Members Group, Jiang Bo, Secretary of the Leading Party MembersGroup and Director of Qingdao Municipal Bureau of Industry and Information Technology, visited the booth of GTCOM Qingdao and listened to the detailed product introductions. Wang Xinzhe experienced JoveTrans Mixsmart simultaneous interpreting earphones on site and praised its novel design and practical and convenient functions.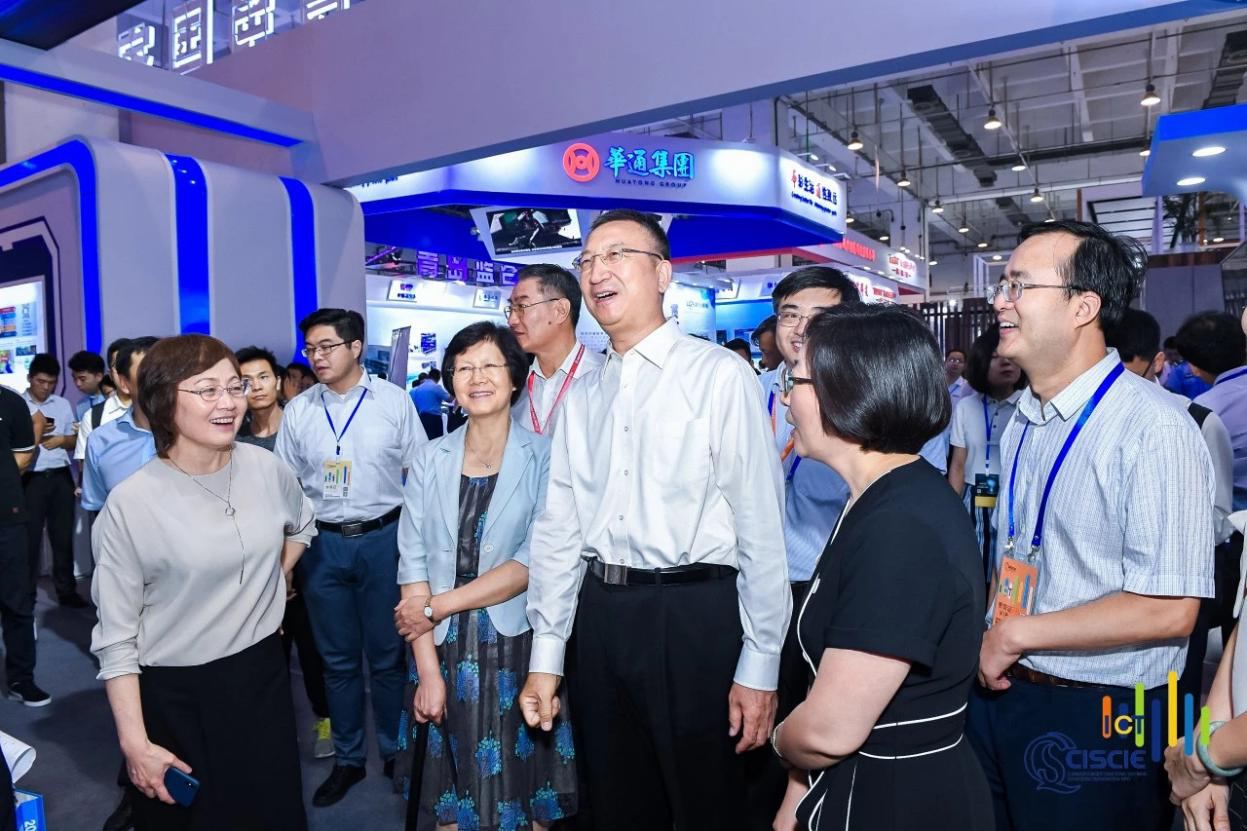 Wang Xinzhe, Chief Economist of the Ministry of Industry and Information Technology
Jiang Bo, Secretary of the Leading Party Members Group and Director of Qingdao Municipal Bureau of Industry and Information Technologyand other leaders
visitthe booth of GTCOM Qingdao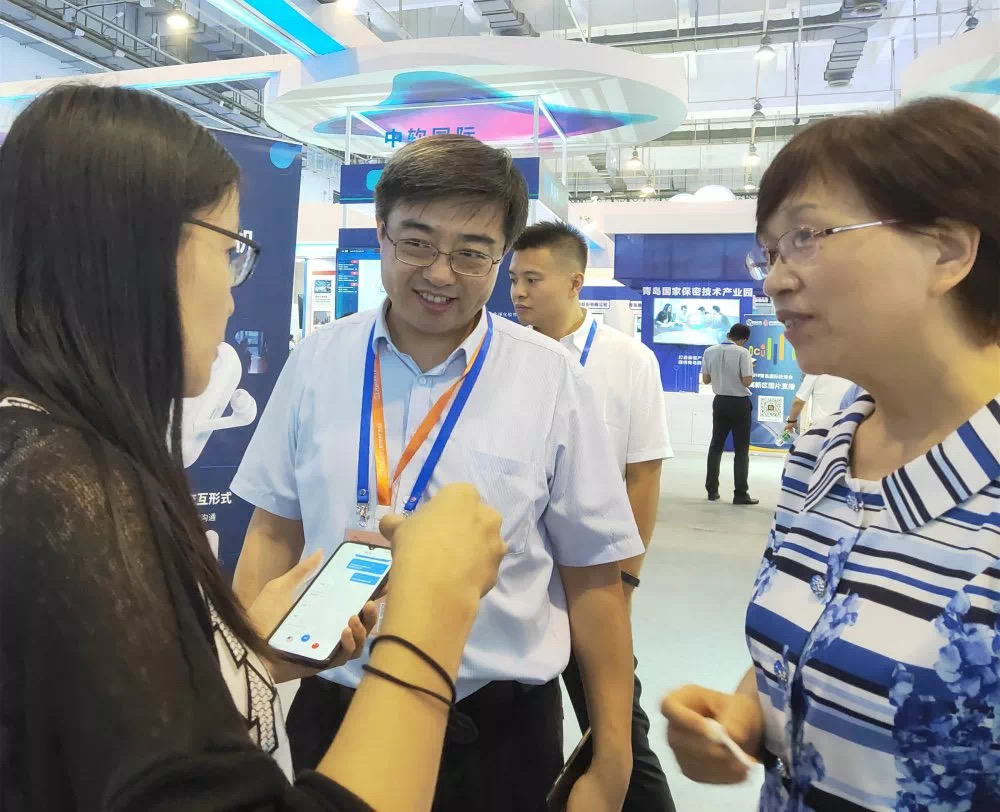 Liu Shengzhen, Deputy Director of the Standing Committee of Qingdao Municipal People's Congress and
member of the Leading Party Members Group
listens to the introduction about JoveTrans Mix
Integrating "software and hardware", scenario-based language technology enables communication without language barriers
The increasing number of foreign-related scenarios, such as overseas tourism, international conferences and foreign guest reception, has pushed up the demand for language services, which in turn has highlighted the problems of ordinary translation softwareincluding limited functionsand poor interactionexperience. In recent years, GTCOM Qingdao has innovatedlanguage technology product modeby deeply integrating the advanced technologies of speech recognition, NMT machine translationand speech synthesis with smart hardware,and has createda series of multi-function B-end C-end productssuch as JoveTrans Mixsmart simultaneous interpreting earphones and LanguageBox.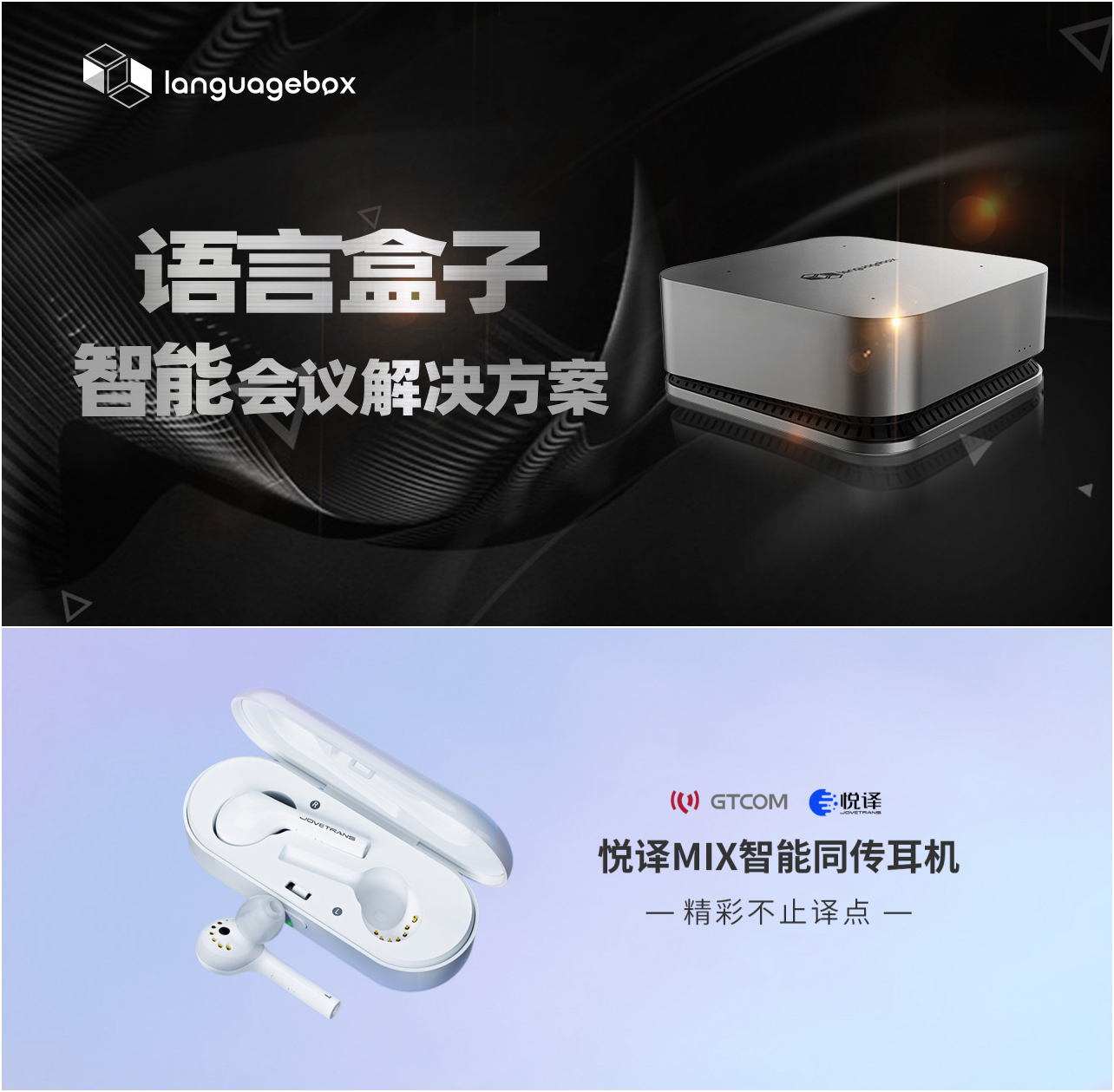 At this expo, the company's main hardwareproducts, LanguageBox andJoveTrans Mix attracted a large number of participantsto experience as soon as they were put on display. LanguageBox boasts three functionsincluding high-qualityAIsimultaneous interpretingin 38 languages, intelligent shorthand and mobile conference room, able to provide intelligent meeting solutions for enterprises, exhibitions, etc. JoveTrans Mix has created the "Bluetooth earphones + smart translation" mode to ensure its use in multiple scenarios. It not only can turn into anassistant of translationin no time and supports simultaneous interpreting in30 languages, but also features excellentsound quality and smoothperformance for listening to music, making phone calls and watching TV series.The ultra-long battery life designhas freed users from low battery anxiety.In addition, in terms of customization, the two products both have outstanding performance. LanguageBox supports the customization of translation engines in finance, science and technology, medical treatment, sports and other fields, while JoveTrans Mix provides personalized designs inappearance, laser carving and color spraying.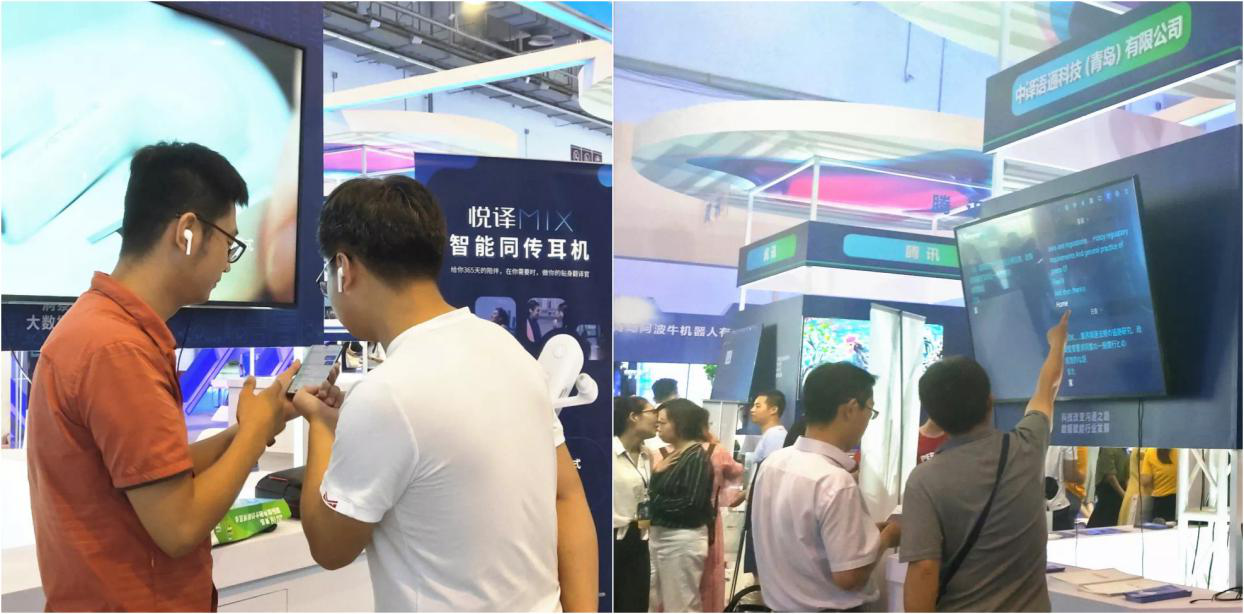 The participants experience LanguageBox and JoveTrans Mix
Focus on industrial enterprises and industrial chain to create comprehensive smart ecology
Industry is one of the earliest sectors to apply big data technology. With the continuousdeepening of transformation and upgrading, the need for information sharing and collaborative development of industries is becoming stronger and stronger.
At the expo, GTCOM Qingdao exhibited two overall solutionsofindustrial big data and intelligent manufacturing. These two solutions integrate big data, Internet of Things and artificial intelligence technology, and focus on the whole business process of industrial enterprises and the whole industrial chain of industries. Through the intelligent system based on data mining analysis and think tank support, enterprises can realize the functions of intelligent description, intelligent diagnosis, intelligent prediction, intelligent decision-making and intelligent operation and maintenance in different business scenarios, so as to assist in business insight and speed up decision-making; the industrial chain can allocate high-quality resources in a wider range, improve the operation efficiency of the whole chain, and promote the win-win cooperation of the whole industry. At present, the two solutions have successfully served China High-Tech GroupCorporation, PetroChina, Sinopec and other large enterprises, and won many government and industry awards
Dig deep into users' pain points and enable multiple industries with a solution matrix
GTCOM Qingdaonot only pays close attention to industrywhich features high-level "integration of informatizationand industrialization", but also commitsitself to enabling scientific research, tourism, education and other vertical fields with solutions. To meet the needsof different users such as the government, enterprisesand colleges and universities in sci-techdata services and teaching and scientific research innovation under the background of globalization, the company has launched the sci-techbig data solution and the global cross-language big data experimental innovation platform, the latter was successfully launched in Xi'an International Studies University recently. It is introduced thatthis platform, based on cloud computing, big data, natural language processing and other technologies, can provide colleges and universities with integrated services which bring together enterprises, universities, and research institutes, and help them accumulate data assets, carry out cross-domain cooperation, improve big data teaching ability and accelerate the transformation towardsthink tanks.
Global cross-language big data experimental innovation platformenters Xi'an International Studies University
Global industrialmarket digitizationalso gives rise to smart tourism ecosystemwhich hasintegratedthe company's big data, precision marketing and intelligent hardware capabilities to realize the intelligent management, intelligent service and intelligent marketing of tourism. It is worth mentioning that all the above solutions are supported by the powerful cross-language big data capability of GTCOM Qingdao: ten-million-leveldata sources from more than 200 countries and regions in65 languages,and hundred-billion-leveldata assets coveringknowledge map, entity relationship, information, social networking, etc.
From contributing to the industrial reform to upgrading the work and life scenarios with intelligent technologies, GTCOM Qingdao's scenario-centered products based on big data and artificial intelligence technology have impressed the participants at this year's Qingdao Software Expo. To meet the digital and intelligent demands of enterprise and individual markets, the company will continue to create software and hardware products integrating cutting-edge technologies and high-quality experiences to serve global users.